New York: Man Hands Out Marijuana Lollipops On The Street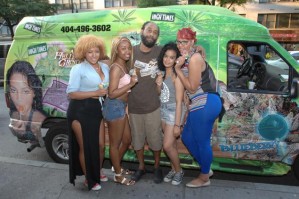 By Steve Elliott
Hemp News
An Oakland, California man has been handing out marijuana lollipops on the streets of New York City since April.
"Marijuana has had a bad rap for too many years, man," activist Judah Izsraael, 44, co-owner of Weed World Candies, said on Wednesday, reports Shane Dixon Kavanaugh of the New York Daily News. "Its time is now."
Izsraael, driving a Ford Econoline van painted with pot leaves and ganja babes, said he has handed out weed lollipops along St. Marks Place and West 4th Street, Times Square and Union Square for a month now. The candies have strain names such as White Widow, O.G. Kush and Blueberry Dream.
"We just set up wherever," Izsraael said. "We're all about educating people."
A handful of attractive women in denim shorts and tank tops working for Izsraael stood on 14th Street near University Place on Wednesday night, offering passersby handfuls of the pot-laced lollipops. While most ignored the spectacle, others were agape.
"Is this for real?" asked one wide-eyed woman. "How do you not get caught?"
"Izsraael claims his candies contain only a small, yet legal, amount of THC -- the psychoactive ingredient in marijuana that gets you stoned," reports the Daily News, but of course that's nonsense, since there is no "legal amount" of THC under federal law.
"We're not giving out blunts," Izsraael said. "We can't guarantee that everyone is going to get high."
"Marijuana is the best thing ever," said Bronx artist Reynilda Fernandez, 26, as she enjoyed a Sour Diesel lollipop. "But it's going to take like 20 of these things to get me high."
Izsraael said he's already handed out lollipops on the streets of New Orleans, and his next planned destination is South Beach, Florida.
(Photo: Sam Costanza/New York Daily News)