New York Officially Becomes 23rd Medical Marijuana State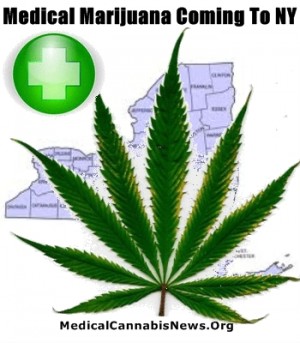 Patients, Caregivers and Healthcare Providers Thank Legislators and Governor, Immediately Turn Their Attention to Swift Implementation: "Patients Are Out of Time and Need Access Now"
Governor Andrew Cuomo on Monday signed a medical marijuana bill into law, making New York the 23rd state to allow legal access to medical marijuana for seriously ill patients. Patients, caregivers and healthcare providers are attending the bill signing ceremony at The New York Academy of Medicine, along with the bill sponsors, Assemblyman Dick Gottfried and Senator Diane Savino.
After years of advocacy and intense last minute negotiations between lawmakers, the bill passed on the final day of the legislative session with extraordinarily strong bipartisan support. New York is the second largest state in the nation
"Thanks to the bill sponsors and the Governor's actions today, New York has joined twenty-two other states in creating safe and legal access to medical marijuana for seriously ill patients," said Holly Anderson, executive director of the Breast Cancer Coalition of Rochester. "Patients in New York have been fighting for this for 18 years, and they have waited long enough. I urge the Governor to do everything within his power to insure that patients in New York can access medical marijuana as soon as possible."
The final bill was not as comprehensive as patients had hoped but, if implemented swiftly and effectively, it will nevertheless provide relief for thousands of New York patients suffering from serious and debilitating conditions by allowing the use of medical marijuana under the supervision of their physician. The conditions covered under the law include cancer, HIV/AIDS, ALS, Parkinson's, multiple sclerosis, certain spinal cord injuries, irritable bowel syndrome, epilepsy, neuropathy, and Huntington's disease.
The bill gives the Governor broad control of the program, including the ability to add conditions.
"Having the Governor sign this bill into law today gives me and my family hope that we may finally have access to medicine to treat my son Oliver's seizures," said Missy Miller of Atlantic Beach, whose son Oliver suffers from dozens of life-threatening seizures each week. "I'm heartened that the Governor understands the medicinal benefits of medical cannabis.
"My son and so many others need this medicine right away," Miller said. "I implore Governor Cuomo and the Commissioner of Health to work diligently to make sure that New Yorkers who are suffering and may die without this medicine, get it as soon as possible. The eighteen month timeline for implementation suggested in the bill is simply too long for Oliver."
Earlier versions of the bill included provisions creating expedited access for patients, including children with severe seizure disorders, who were in life-threatening situations or who had terminal illnesses. Under the law being signed today, the Governor has the authority to implement the program more quickly than the 18-month timeline suggested.
"New York has finally passed a law that provides hope to so many of its residents" said Kate Hintz of North Salem whose daughter Morgan has a life-threatening seizure disorder. "That's good news.
"I am saddened, however, that this law suggests an implementation stage that could take up to 18 months," Hintz said. "It is unfair that we are again asked to wait, while patients in other States access systems and medicines as we speak."
The law gives the Governor's administration the authority to determine and restrict the forms of medical marijuana, and while it explicitly prohibits both herbal marijuana and smoking, vaporization could be allowed, along with oils, extracts, pills, and edibles.
"I am delighted that Governor Cuomo signed the medical marijuana bill into law," said Beverly McClain of New York City, a stage four cancer patient. "Now the real work begins.
"We want to see the Commissioner allow us access to the whole plant, which we know has beneficial effects," McClain said. "And those of us who have been suffering for years need his office to move quickly and establish a workable, robust program so we can access the medicine we need as soon as possible."
"As an oncology nurse and someone who has spent years learning about medical cannabis, I am delighted that New York has finally become one of the states where medical marijuana is legal," said Eileen Konieczny, RN, of New Paltz. "I hope the Governor will move as quickly as possible to get New York's medical marijuana program up and running and that they will work to make sure that patients have access to the wide array of medical marijuana products, including the whole plant, which we know is effective in treating different serious conditions and symptoms.
"Many patients, especially those at the end of life, cannot wait 18 months for relief," Konieczny said. "We need to start working on a system of expedited access for those patients now."
Advocates celebrating the victory are committed to continuing their work to ensure that the program is implemented effectively and quickly. They are hopeful that the Governor will establish an advisory committee of experts, providers, and patients advocates to inform the implementation process and to learn from the experiences of other states with medical marijuana programs.
"I'd like to thank Governor Cuomo for signing this bill into law," said Susan Rusinko of Auburn who is living with MS. "Having advocated for the passage of this bill for more than two years, I know New York can learn a lot from the states that have gone before us.
"I urge the Governor to work with patients and experts and move quickly to establish New York's program," Rusinko said. "The suffering has gone on too long."
"This is an important day for cancer patients and their families," said Geri Barish of Long Island, a cancer survivor and Mother of a child who passed away from cancer. "Watching our children and loved ones suffer is unbearable.
"Now that this legislation is signed into law, we must make sure implementation happens quickly and effectively so that patients get the relief they need," Barish said.
"Without question, this is a good day for patients in New York who have fought for nearly 20 years for relief," said gabriel sayegh, New York State director for the Drug Policy Alliance (DPA), the anchor organization for Compassionate Care New York. "Under this law, patients will benefit if the program is implemented effectively.
"We urge the Governor to move swiftly on implementation and to establish an emergency access provision for those patients with very serious or terminal conditions who have no time to spare," sayegh said. "The bill signing today is a tribute to all the patients, caregivers, families and healthcare providers who worked so hard to make today a reality -– it's a good example of what can be accomplished when regular people work together for what's right."