New Zealand: Country's First Cannabis Museum Opening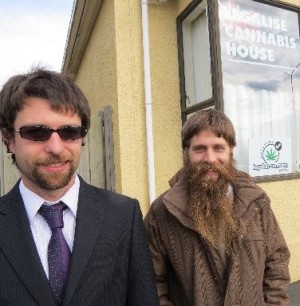 By Steve Elliott
Hemp News
New Zealand's first cannabis museum is opening, featuring more than 100 books, articles, photographs and displays. The facility also includes space for community groups, recording facilities, and a movie projector.
Legalise Cannabis House in Dunedin, where the museum is located, is becoming the national headquarters of the Aotearoa Legalise Cannabis Party and includes a broadcasting studio and computer equipment for running the organization's political campaigns.
"Cannabis is such a taboo subject, but New Zealand has the highest [cannabis consumption] rate in the Western world per percentage of population; we are like the most stoner country in the West," said Legalise Cannabis House Manager Abe Gray, reports Hamish McNeilly at the Otago Daily Times.
Gray stressed that no marijuana is on display, but users are encouraged to visit Dunedin's 4:20 protests which are featured in the museum.
"There will be no cannabis smoked or sold in the house," Gray said. "There will only be information."
The protests began on the campus of the University of Otago in mid-2004 when people began gathering under a walnut tree near the Union Building at 4:20 p.m. each Friday to support cannabis law reform.
"We had to have a museum because we had so much memorabilia about the 4:20s," Gray said.
The protests were a magnet for tourists, and the museum is likely to draw crowds, as well, according to Gray.
"What we have created here is regional economic development," Gray said. "It will create jobs, create economic activity in the area, and it is educating people."
The museum has been visited by Green Party co-leader Metiria Turei, and is likely to hold its official opening in the next few weeks, Gray said.
Aotearoa Legalise Cannabis South Island manager and city council candidate Julian Crawford said he would like the council to pass a symbolic resolution declaring Dunedin a cannabis prohibition free zone.
"It is about sending a message to central government," Crawford said.
Senior Police Sergeant Darryl Lennane said police were unaware the museum had been established in South Dunedin.
"Police support safe and drug-free communities and cannabis is a drug that creates a significant level of social harm in our communities and oftren has a strong connection to organized criminal activities," Sgt. Lennane lied.
Sgt. Lennane said the police would be paying a visit to the museum.
Both Gray and Crawford said the potential of turning Dunedin into "Dunsterdam" -- a nod to cannabis tourism in Amsterdam -- is an idea worth promoting.
Admission to the museum will be free, but the charitable organization relies upon donations to support its operations.
Gray said he hoped the museum will demonstrate that cannabis activists are community-minded people.
(Photo of Julian Crawford and Abe Gray: Jonathan Chilton-Towle/Otago Daily Times)