Oregon: 15-Year Federal Prison Term For Medical Marijuana Grower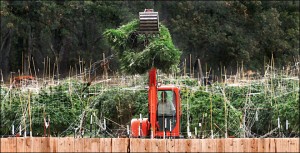 By Steve Elliott
Hemp News
A medical marijuana patient and grower whose farms were raided back in October 2011 was sentenced on Tuesday to 15 years in federal prison.
Brian Wayne Simmons, 40, of Medford, was sentenced by senior U.S. District Judge Owen M. Panner on charges of conspiracy and "manufacturing/distributing" marijuana, reports the Medford Mail Tribune. Simmons was convicted after a four-day jury trial in December 2012.
He owned and operated Brian's Green Thumb Farm in Central Point, Oregon. Federal Drug Enforcement Administration (DEA) agents and local police raided the farm in October 2011, confiscating 456 "large" cannabis plants. Agents seized 64 more
plants at a second grow site near Medford.
The plants were described as ranging in height from five to eight feet, according to court records. Agents also confiscated what they claimed was "thousands of pounds of harvested marijuana" being processed at the two sites.
Prosecutors claimed Simmons had registered more than 20 patients as growers on his sites in an attempt to comply with the Oregon Medical Marijuana Act. At his trial, one of the patients who was registered as a grower at Simmons' farm testified she didn't know the other patients involved or tend the plants herself.
Authorities claimed the investigation showed Simmons had been growing and selling marijuana since 2009, with documented sales of more than $740,000 for the 2009 and 2010 grow seasons. Officials claimed he had roughy quadrupled the size of his operation by 2011, "based on the seized evidence."
Codefendant Michael Grantski was accused of overseeing the second grow site near Medford, but was acquitted after a December jury trial. Another codefendant, Michael Peru, pleaded guilty and "cooperated with federal investigators." He still hasn't been sentenced.
Simmons' case "represents another gross abuse of the Oregon Medical Marijuana Program," U.S. Attorney Amanda S. Marshall claimed in a prepared statement released on Tuesday. Marshall said her office will continue to bust people who violate state and federal law by producing and selling "large quantities" of marijuana for profit, and will seize the assets used in such activities.
(Photo: DEA agents use a backhoe to remove marijuana plants from Brian's Green Thumb Farm, October 2, 2011. Owner Brian Simmons was convicted in a December jury trial and on Tuesday was sentenced to 15 years in prison. Bob Pennell, Mail Tribune)