Oregon: Preparation Begins for Industrial Hemp to be Sown in Spring 2014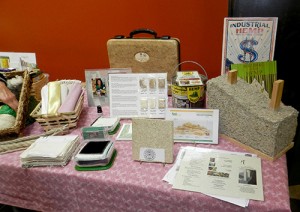 By Michael Bachara, Hemp News Correspondent
After a panel of appointed experts can appease federal officials with a set of rules, Oregon farmers may sow a crop of industrial hemp next spring. The committee of agricultural experts and state officials has been selected by the Oregon Department of Agriculture, and will come together in December to establish proper procedures for hemp cultivation in Oregon.
"The committee hopes to set up a program that will meet what the federal government calls a 'robust' standard," according to Jim Cramer, a market and certification official at the Department of Agriculture. "The goal is to do so in time for planting."
In 2009, Senate Bill 676, spearheaded by Oregon State Senator Floyd Prozanski, was passed by the Oregon legislature and then-Governor Theodore Kulongoski signed the historic bill into law. Since the passage, Oregon farmers have been hesitant to begin growing due to fear that they'd be prosecuted by the Drug Enforcement Administration for possession of a schedule I controlled substance.
In recent months, hemp's legal status gained momentum. The federal justice department said it won't prosecute cases in states such as Washington and Colorado that legalize and regulate marijuana.
While awaiting clarification on hemp's legal status from the US Department of Justice, the Oregon Department of Agriculture is forming the advisory committee on hemp production. The U.S. attorney for Oregon, Amanda Marshall, by the request of Representative Earl Blumenauer, Oregon District 3, said they will take a "trust, but verify" approach. "In other words, as long as the state follows through in imposing strict controls regulating marijuana related conduct, it is less likely that any of the Department's eight enforcement priorities will be threatened and federal action will be less necessary."
"In any rule-making that we do, we always want to make sure that it's going to be applicable and common sense for the actual producers and handlers,"explained Lindsay Eng, Certification Development and Program Manager of Oregon Department of Agriculture at an industrial hemp forum in Portland last week (see video below).
Bruce Pokarney, Director of Communications for the Oregon Department of Agriculture said, "Eight or nine people will be appointed to a rules committee." He continued on to explain, "Members will include potential growers and end users – people who would use the seeds or fiber. Russ Karow, head of the Crop and Soil Science Department at Oregon State University, will be among the committee members."
Karow explained in a recent OPB Think Out Loud segment that he believes hemp in Oregon will be best grown in the Columbia Basin and Eastern Oregon. Hemp News has obtained and provided links for the hemp background papers that Karow has compiled regarding hemp and it's potential market, regulation and factors for consideration in growing hemp.
The research and thought behind the movement toward hemp production in Oregon is swiftly expanding. Oregon State University is offering a groundbreaking course on industrial hemp. The online course, WSE 266, is being spearheaded by the College of Forestry's Department of Wood Science and Engineering. The department believes hemp is an extremely useful renewable resource which is worthy of exploration. The course is led by hemp consultant Anndrea Hermann, M.Sc, B.Gs, P.Ag, an instructor at the university.
"It's an up and coming crop in the United States and we are going to need professionals coming out of academia who are experts in multiple areas," Hermann emphasized in a recent interview with Hemp News. "Oregon can become a recognized leader in the environmentally conscience fiberboard manufacturing of the twenty first century."
"Wood is still the largest volume renewable material that there is, but there is a lot of interest in other renewable materials and that includes hemp," said John Simonsen, a professor in the College of Forestry at Oregon State University.
According to the website of Representative Blumenauer, "American retailers sell over $300 million worth of products containing hemp seeds and fibers every year. Yet because federal law classifies hemp and marijuana as the same substance, U.S. manufactured hemp products must use hemp grown in other countries."
In the U.S., ten states, have already passed legislation defining industrial hemp and removed unjust barriers from its cultivation, including Oregon.
OPB: Think Out Loud
Congressman Earl Blumenauer, Oregon District 3
Russ Karow, Head of Oregon State University's Department of Crop and Soil Science
Eric Mortenson, Reporter at the Capital Press
Lindsay Eng, Certification Development and Program Manager, Oregon Department of Agriculture
Russ Karow, Crop and Soil Science Department Director, Oregon State University