United States: Oregon State University to Offer Class on Industrial Hemp, First in the Nation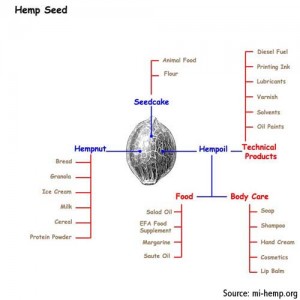 By Michael Bachara, Hemp News
Beginning Spring 2013, Oregon State University will be offering its groundbreaking course on industrial hemp. The online course, WSE 266, is being spearheaded by the College of Forestry's department of wood science and engineering. The department believes hemp is an extremely useful renewable resource which is worthy of exploration.
Described in the course material as "an introduction to the botany, biology and agronomy of the hemp plant, its origins, historical contexts and implications of contemporary legal and social issues surrounding its use for food, fiber and building products," the course will be led by hemp consultant Anndrea Hermann, M.Sc, B.Gs, P.Ag, an instructor at the university. Hermann is the President of the Hemp Industries Association (HIA), and has recruited several guest lecturers in order to bring a multi-dimensional view to the curriculum.
Hermann has a wide range of hemp knowledge, from fiber and seed agronomy to building applications. She is also a partner at Hemp-Technologies, a North Carolina based company who produces eco-friendly hemp houses in the region.
"It's an up and coming crop in the United States and we are going to need professionals coming out of academia who are experts in multiple areas," according to Hermann. "Oregon can become a recognized leader in the environmentally conscience fiberboard manufacturing of the twenty first century."
"Wood is still the largest volume renewable material that there is, but there is a lot of interest in other renewable materials and that includes hemp," said John Simonsen, a professor at the College of Forestry at Oregon State University.
Simonsen, who helped organize the class, will be one of its guest lecturers. "The hemp market right now is in the neighborhood of $500 million a year in the US alone and all of that has to be imported."
According to the Hemp Industries Association, sales of hemp products exceeded $452 million in 2012.
Registration for spring term began on February 24 and availability for this course is limited.
Sources: http://www.kmtr.com/mostpopular/story/OSU-to-offer-class-on-industrial-h...
http://www.dailybarometer.com/osu-to-offer-course-on-hemp-1.2994547#.UUq...