Oregon: Two Marijuana Initiatives Filed For State Ballot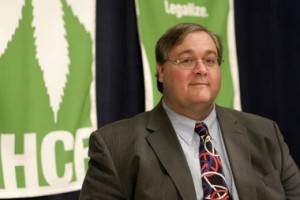 By Steve Elliott
Hemp News
Hemp News and The Hemp and Cannabis Foundation (THCF) owner Paul Stanford has filed two new initiatives to legalize marijuana in Oregon.
One of the measures is similar to an 2012 initiative that fell short by just six points at the polls, but with a couple of major changes, reports Jeff Mapes at The Oregonian. The commission would no longer be chosen by cannabis growers, retailers and others in the marijuana community, but instead would be appointed by the governor, according to Stanford.
"In retrospect, [the commission proposal] was probably the most damaging thing in the campaign," Stanford said of Measure 80. The Portland-based president of the Campaign for the Restoration and Regulation of Hemp (CRRH) said that a governor-appointed commission, in the new proposal, would poll better with voters.
The other major change from Measure 80, which would have allowed adults to possess unlimited quantities of marijuana, is that the new proposal would impose limits of 24 plants and 24 ounces of dried marijuana.
Stanford's second proposed initiative would constitutionally allow those 21 and older to possess and grow cannabis. It would allow the state to "reasonably define, limit and regulate" marijuana.
Stanford said he is working with a broad coalition of cannabis activists and will go ahead with whichever of the two legalization measures they decide has the best chance of passage.
"I'm not going to sit out here being a fly in the ointment," Stanford said. "We're going to make a group decision, that's my plan."
Along with the two marijuana proposals, Stanford also filed three other proposed constitutional amendments on other subjects. One, the State Bank of Oregon Amendment, proposes the creation of an Oregon State Bank which would invest its funds exclusively within the state; a second, the Natural Individual Rights Initiative, would grant individuals more rights than corporations, including the right to privacy; and the third, the Genome Protection Amendment, would impose more restrictions on the corporate and commercial use of genetic material, specifying that individuals own their own DNA, and that "all genetic code is open source data which, subject to personal privacy, shall be shared for the benefit of all."
(Photo of Paul Stanford: The Oregonian)