United States: Petition to Pardon Medical Marijuana Provider Chris Williams
As a young man enlisted in the U.S. Marine Corps, Chris Williams swore an oath to "support and defend the Constitution of the United States." Now is the time to show him your support!
By Michael Bachara, Hemp News Correspondent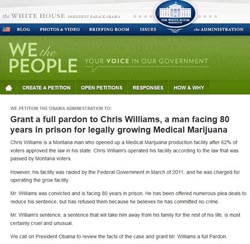 Montana – Medical cannabis provider Chris Williams has been fighting federal prosecution since March 14, 2011, when federal agents served him a search warrant for his business, Montana Cannabis, along with 25 other medical marijuana businesses across Montana. Caregivers operating in compliance with Montana state medical cannabis law were shut down and arrested.
This raid (and others before and since) was in direct contradiction with the 2009 memo from the justice department, when the Obama administration stated that they "should not focus federal resources on individuals whose actions are in clear and unambiguous compliance with existing state laws," and clearly shows how out of sync our Federal marijuana policy is with not only state law, but also the opinion of the America voter.
Facing a mandatory minimum sentence of 92 years in prison, Williams has now reached a settlement with prosecutors in his criminal proceedings. By agreeing not to appeal his conviction on Count III (Possession with Intent to Distribute Marijuana), which carries a maximum term of 5 years, and Count VI (possession of a firearm in furtherance of a drug trafficking crime), carrying a maximum sentence of life imprisonment, Williams' mandatory minimum penalties have been reduced to five years. The Government has also agreed to dismiss the criminal forfeiture against Montana Cannabis. Six of the original charges will be dismissed in exchange for withdrawal of pending motions for acquittal and a new trial.
"It was not easy for me to give up my Constitutional fight, but as I navigate this complex federal penal system, it has become clear that punishment is the only thing that is guaranteed," said Williams in a phone call from the Missoula County Detention Facility, according to NBC Montana.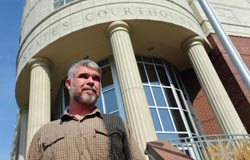 Of more than 70 cannabis caregivers indicted in the United States since President Obama took office, Williams is one of only four to take his case to trial. Turning down prosecutors' various plea bargains, he held onto the belief that he deserved his day in court, though was ultimately prevented from presenting his compliance with state law as a defense to the federal charges. Without this critical context, the version of the Williams' story the jury heard was not only inaccurate, but severely distorted.
After conviction, the United States attorney general's office came back with a new deal. If Williams waived his right to appeal, they would drop most of the charges so that he would face a minimum of 10 years in prison and pay a $288,000 judgment.
"With the rest of my life literally hanging in the balance, I simply could not withstand the pressure any longer. If Judge Christensen shows mercy and limits my sentence to the 5-year mandatory minimum, I could be present at my 16-year-old son's college graduation. This would most likely be impossible had I rejected the latest compromise."
"The reason that I went to trial was because I wanted to change things for people, for all medical marijuana patients throughout the country," says Williams. He felt his case had the chance to change the law of the land and in a way he's sacrificing his principals by accepting a post-conviction plea agreement.
Williams' advocate and Free Chris Williams Campaign Founder Kari Boiter said she's hoping the judge will show mercy at sentencing. "I plan to show the judge petitions for Williams' cause that have gathered tens of thousands of signatures from around the country," Boiter stated. "I'm going to enclose these, along with my letter of support to show that we have over 30,000 just in the petitions that I've printed out. I just want the judge to know that the whole world supports Chris Williams."
There is also a White House petition to pardon Williams that has received over 27,000 signatures to date, having surpassed the 25,000 required for a response by President Obama. The President has yet to respond.
Sentencing has been set for February 1st.
Related: http://www.tokeofthetown.com/2012/12/feds_settles_with_medical_cannabis_...
http://www.nytimes.com/2012/11/08/opinion/the-fight-over-medical-marijua...
http://www.nbcmontana.com/news/Government-settles-with-convicted-cannabi...
http://www.nbcmontana.com/news/Chris-Williams-supporters-hope-for-mercy/...
http://www.tokeofthetown.com/2012/12/an_open_letter_on_behalf_of_marijua...
http://www.kfbb.com/news/local/ABC-5-Exclusive-Chris-Williams-Speaks-Wit...
https://petitions.whitehouse.gov/petition/grant-full-pardon-chris-willia...