Washington: Protestival - A Twenty Year Retrospective of Seattle Hempfest
Seattle Hempfest history book hits the streets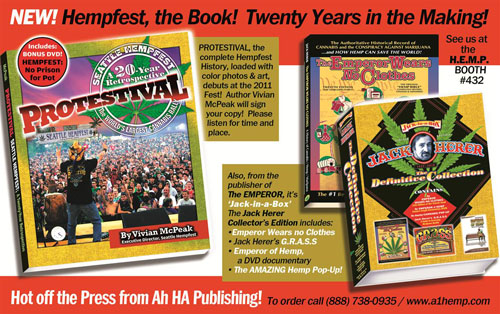 By Seattle Hempfest Staff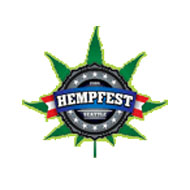 SEATTLE – How did a humble a group of community activists build the world's largest pot rally? Protestival: A Twenty Year Retrospective of Seattle Hempfest, tells how the Hempfest was built from the ground up with little more than a vision and the conviction necessary to take that dream to fruition. Protestival details the long, hard struggle to build the world's largest all volunteer annual free-speech rally.
To note this year's 20th anniversary milestone, Seattle Hempfest Executive Director Vivian McPeak has written a book about the two decades that the flagship annual event of America's cannabis culture has been advancing the cause of reform. The world's largest marijuana law reform gathering, the Seattle Hempfest draws hundreds of thousands of attendees down to the Seattle waterfront each year. This year's event is Aug. 19 - 21.
Set in Seattle, Washington, where the story of Hempfest has its roots planted firmly in the fertile soil of the post-80's grunge music scene, Protestival outlines the Herculean task of building a world-class protest festival out of nothing. From its humble beginnings at a community peace concert where a rag- tag group of activists decided to launch a small salvo at the American war machine, to its current designation as the world's leading annual political rally, the flagship event of the pot culture has remained totally grass-roots from day one.
"I wrote Protestival because I feel that the story of how our event came into being is a true American story of what hard work, community involvement and a deep commitment to a sacred ideal can accomplish," said McPeak about his new book. "There is no other event in the United States just like Seattle Hempfest, and I want Americans to know that free speech is alive and well in Seattle, Washington, due to the efforts of the Seattle Hempfest Core Group."
Published by Ah HA Publishing, the book sells for $19.99, and will be available by calling (888) 738-0935. The book includes a bonus DVD of Hempfest: No Prison for Pot, a documentary about the event produced in 2001.
Ah Ha Publishing also publishes The Emperor Wears No Clothes, by Jack Herer. Considered by many to be the quintessential book about the modern industrial hemp movement, The Emperor Wears No Clothes helped start a grassfire across the globe. Herer passed away in 2010 after a protracted illness.
"I am extremely proud to be published by the same people who brought Jack Herer's groundbreaking publication to us all. Jack's book changed my life, and the Seattle Hempfest is a testament to the gigantic impact that Herer's work has had since its release," McPeak said.
McPeak lives in North Seattle with his dog, Nugget, and his cat Gooey. This is his first book.