Russia: President Putin Criticizes Other Countries For Even Thinking About Legalizing Marijuana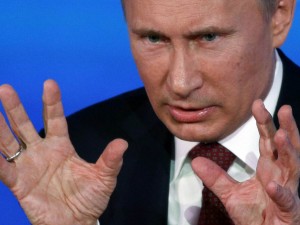 By Steve Elliott
Hemp News
Russian President Vladimir Putin doesn't think other countries should legalize marijuana. Putin criticized countries which are moving towards cannabis legalization at a drug policy conference on Wednesday.
"We consider it essential to fight all kinds of drugs," Putin said at the annual International Drug Enforcement Conference (IDEC) in Moscow, reports Ria Novosti. "We observe with concern the relaxation in laws by some countries moving towards the legalization of so-called soft drugs."
Putin didn't specify which countries he meant, but voters in two U.S. states, Colorado and Washington, approved limited recreational marijuana legalization in November, and the Organization of American States (OAS) in May released a study calling for a serious discussion on legalizing marijuana, which was quickly rejected by President Obama.
Guatemala's new president, Otto Perez Molina, in September called for the legalization of drugs in a regulated market.
Both of the two states that have legalized recreational marijuana, plus 16 more, have also legalized the use of cannabis for medicinal purposes. The trend towards legalization was criticized in a 2012 report the the United Nations International Narcotics Control Board (INCB).
(Photo: Secrets of the Fed)