Washington: Seattle Hempfest 2009 - Montage
"Hemp will be the future of all mankind, or there won't be a future." Jack Herer
By Michael Bachara, Hemp News Staff
Video By Reimond Kerezsi, LK & Oregon NORML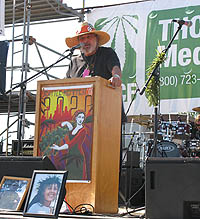 The featured video is an eclectic compilation of passionate speakers from the August 2009 Seattle Hempfest. It includes interesting perspectives from "The Emperor of Hemp" Jack Herer, Allen St. Pierre, Keith Stroup, Paul Stanford, George Rohrbacher, Anndrea Hermann and Seattle Hempfest's own Vivian McPeak. It is sure to give you inspiration.
"It doesn't matter if you are a Democrat or Republican, we are going to legalize marijuana no matter what happens in ten years, because when 60% of the American public wants something, they're going to get it." Allen St. Pierre
"Contact your legislators tell them to end marijuana prohibition. It's time to tax and regulate it. The more letters they get like that, the sooner the day will arrive." Paul Stanford
The time to act is now, so please create awareness in your community. The Berlin Wall fell quickly. Together we can end this unjust war in the same manner, but we need to unite in solidarity.
Support Hempfest: http://www.hempfest.org
Save the dates: Seattle Hempfest August 21-22, 2010
Footage: August, 2009 - Myrtle Edwards Park, Seattle, Washington


Source: http://www.youtube.com/watch?v=gDbtwBJ2d5U