Washington: THCF Supports Seattle Hempfest 2010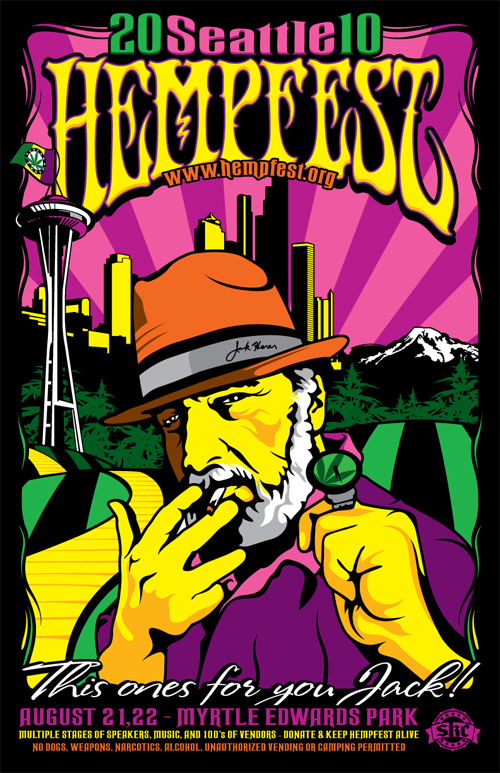 By Michael Bachara, Hemp News Staff
The Hemp and Cannabis Foundation (THCF) is proud to be the main sponsor of the Seattle Hempfest because our mission is to educate the general community about the benefits of the cannabis plant to our society. Hempfest 2010 will be held on August 21st and 22nd, and takes place every year at Myrtle Edwards Park expanding in recent years to include the adjacent parks. Hempfest offers five stages of entertainment, a Hemposium question and answer forum, and hundreds of vendor booths, sure to please a myriad of musical, informational, and entrepreneurial tastes.
The time to act in support of hemp is now, so please reach out and create awareness in your community. The Berlin Wall fell quickly, and together we can end this unjust war on the cannabis plant in the same manner, but we need to unite in solidarity. Vivian McPeak, the event's director declares, "No political or human rights movement in America has made it this far without eventually winning. It's just a matter of time."
"It doesn't matter if you are a Democrat or Republican. We are going to legalize marijuana no matter what happens in ten years, because when 60% of the American public wants something, they're going to get it," said Allen St. Pierre, Executive Director of the National Organization for the Reform of Marijuana Laws(NORML) at the event in 2009 regarding the topic.
We look forward to what the future will bring. Support Hemp and Cannabis legislation.
Right now, the Seattle Hempfest core staff is meticulously preparing for the attendance of an estimated 500,000 festival goers throughout the weekend. We thank them for everything they do and understand it is not an easy task to throw a gathering of this magnitude. Their dedication to the cause is to be rewarded. Thank a volunteer!
Support Hempfest: http://www.hempfest.org
Save the dates: Seattle Hempfest August 21-22, 2010
Footage: August, 2009 - Myrtle Edwards Park, Seattle, Washington
Montage Courtesy: Reimond Kerezsi, LK & Oregon NORML


Source: http://www.youtube.com/watch?v=gDbtwBJ2d5U