Washington: Seattle Hempfest - America's Largest Protestival - Aug 17th-19th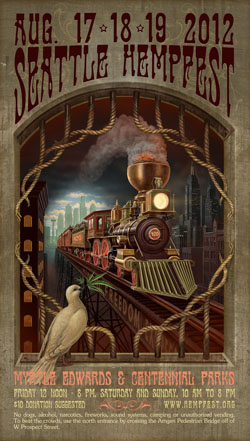 WHAT – The Seattle Hempfest XXI, America's largest "protestival"
WHEN – Noon – 8 p.m., Friday, Aug. 17, and 10 a.m. to 8 p.m., Saturday and Sunday, Aug. 18 & 19
WHERE – Myrtle Edwards Park - Pier 70 on the downtown Seattle waterfront
Is it time to retire marijuana prohibition? The world's largest cannabis policy retirement party thinks so. Seattle Hempfest 2012 expects many tens of thousands to attend its 21st annual event, and as America's largest marijuana law reform event Hempfest invites everyone to join in the celebration to end cannabis prohibition Aug. 17-19 at Myrtle Edwards Park.
The 2012 "protestival" features hundreds of booths and six stages of music and speakers dotting the mile plus expanse at Myrtle Edwards and Centennial Parks, on the beautiful Puget Sound. With the Washington state decriminalization Initiative 502 on this November's ballot, there will be much discussion about the merits and mechanics of regional cannabis reform on all of Hempfest's stages.
Scheduled speakers include Steve DeAngelo, executive director, Harborside Health Center; Jeanne Kohl-Welles, Washington State Senate; Roger Goodman, Washington State Representative; Jill Stein, Green Party presidential nominee; Alison Holcomb, campaign director for I-502 New Approach Washington; and Rick Steves, travel show host and New Approach Washington Sponsor for I-502.
The Seattle Hempfest is an all-volunteer effort and is free to attend; donations are encouraged. Attendees are urged to ride public transportation to the event. First held in 1991 as a "humble gathering of stoners," it has grown to become a premier Northwest summer attraction, adding to Seattle's notoriety as a marijuana-friendly city. The public is encouraged to cut the long lines by using Amgen Helix Pedestrian Bridge located at the intersection of Elliot Ave W and W Prospect Street.



SHF Website: http://www.hempfest.org