Florida: The Silver Tour To Bring Awareness About Medical Cannabis
By Michael Bachara, Hemp News Correspondent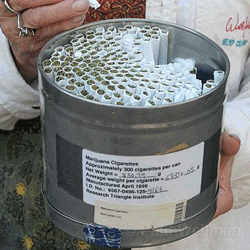 WHAT: The Silver Tour, promoting medical marijuana in Florida
WHEN: Sunday, January 29th, 2012 1:30 to 3:30 p.m. E.S.T.
WHERE: Temple Shaarei Shalom, 9085 Hagen Ranch Road, west of Boynton Beach (See Google Map Above)
ADMISSION: Free
Reservations: Call 561-364-9054, ext. 101.
Many proponents of the global cannabis movement believe legendary pitchman and author of The Black Tuna Diaries, Robert Platshorn, holds the key to cannabis legalization in the United States. Platshorn has shown he can sway senior audiences to support medical cannabis.
Platshorn, via the Silver Tour, brings an educational approach regarding cannabis to senior citizens in Florida and nationwide, and one of the grandest events yet on the tour will take place at the end of January.
Seniors notoriously vote in heavier numbers than any other age group and play a vital role in the upcoming election. Platshorn and fellow supporters believe that not only will the senior community see the truth about cannabis and help dispel the stereotypes and fear that surround the cannabis culture, but also benefit greatly from incorporating medical cannabis into their lives.
The Silver Tour show titled, "Learn the Real Facts About Medical Marijuana," will be free and all ages are welcome to attend. It will be held at 1:30 p.m. Sunday, January 29, at the Temple Shaarei Shalom in Boynton Beach.
There will be a film screening of Cannabis Science, featuring Dr. Donald Abrams, Dr. Robert Melamede, and Dr. Raphael Mechoulam, among other medical cannabis experts.
Mary Lynn Mathre, RSN, MSN, CARN and Al Byrne, LCDR (USN Ret.), both of Patients Out of Time, will be in attendance. Patients Out of Time provides the only AMA accredited cannabis continuing education courses for physicians, nurses, lawyers and caregivers, administered by The University of California, San Francisco School of Medicine. Mathre is the editor of the informative book Cannabis In Medical Practice.
Irv Rosenfeld, a Florida stockbroker whose life was saved when he became the second patient to receive 300 medical cannabis joints each month from the federal government, will tell his story in person. Rosenfeld is the author of My Medicine and a director of Patients Out of Time.
Michael Minardi, J.D., who has selflessly dedicated his life's work to defending the wrongfully accused, will explain how one can obtain safe, legal access to medical cannabis.
State Rep. Jeff Clemens, D-Lake Worth, who will be a speaker, has introduced a bill in the Florida Legislature to put legalizing medical cannabis on the Nov. 6 ballot. House Joint Resolution 353 and Senate Joint Resolution 1028 ask the legislature to approve a referendum on medical cannabis for the November ballot.
"We have a lot of seniors in our community and people with terminal illnesses that truly believe they derive relief from medical marijuana," Clemens said, "I think it would be awfully cruel of us to tell them they can't have it."
"The country is moving in this direction, and we need to catch up," he continued. "This is an issue whose time is coming, whether it happens this year or not."
The auditorium of Temple Shaarei Shalom holds 500 people; all are welcome to attend! Hemp News will also be streaming the event on this page. (See Video Below)
Florida Senate bill: Medical Use of Cannabis
http://www.flsenate.gov/Session/Bill/2012/1028
Florida House bill: Medical Use of Cannabis
http://www.myfloridahouse.gov/sections/Bills/billsdetail.aspx?BillId=47495


Live Stream: Sunday, Jan. 29, 1:30 pm EST from Temple Shaarei Shalom, Boynton Beach Fl.



Official Event Program (PDF): http://www.thesilvertour.org/downloads/event-program-01-29-12.pdf
Official Ustream Page: http://www.ustream.tv/channel/the-silver-tour