South Carolina: Legislative Panel Hears Pleas For Clarity On CBD-Only Medical Marijuana Law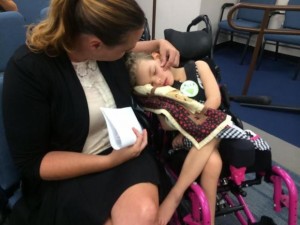 By Steve Elliott
Hemp News
South Carolina lawmakers earlier this year passed one of those "CBD only" bills that allow parents to possess cannabidiol oil, derived from the marijuana plant, for treatment of epileptic seizures. But CBD oil can't be legally made in South Carolina, and it's against federal law to transport it across state lines, so a new Medical Marijuana Study Committee is working out the details of how, exactly, to implement their new law.
That committee met for the first time on Wednesday at the South Carolina Statehouse in Columbia, reports Robert Kittle at WSPA.
CBD oil doesn't have the mind-altering effects of tetrahydrocannabinol (THC), the which gets users high. As written, South Carolina's CBD-only law is just for patients in a clinical trial to treat epilepsy, and it provides no way for them to legally obtain the oil.
Janel Ralph of Myrtle Beach, whose five-year-old daughter Harmony has lissencephaly, which causes seizures, wants the law expanded so that it's not just a clinical trial and not just for epilepsy. She said the law, as written, doesn't really help.
"You're saying you can get it," she said. "You're saying you can give it to your child, and yes we're going to let you do this. But then they're not giving you any way to actually get it legally."
Even though Harmony is currently on five different pharmaceutical medications, they don't control her seizures, according to Janel. She said she'd been in touch with parents in other states who have successfully used CBD oil to control seizures in their children.
"Speaking with them and with other parents with the same condition as Harmony, they've had huge success," Janel said. "Seventy to 80 percent have all seen seizure reduction. Some of them have stopped seizures altogether. Their qualify of life is 100 times better."
But Harmony doesn't qualify for the planned clinical trial at the Medical University of South Carolina, because it is limited to five to 10 participants with Dravet syndrome. The little girl unfortunately suffers up to 50 seizures on a bad day, her mother said.
The study committee will be tasked with figuring out how and where marijuana will be grown and regulated, how the CBD oil will be made, and how it will be dispensed. The South Carolina State Law Enforcement Division, which is a member of the committee, is against allowing marijuana to be grown in the state because they claim it could be "used for something other than medical purposes" -- this, despite the fact that high-CBD, low-THC strains with no psychoactive effects are typically used to produce CBD oil.
But Senator Tom Davis (R-Beaufort), who sponsored the Senate version of the CBD bill that became law, sensibly said "The General Assembly, in authorizing doctors to certify patients to possess and use CBD oil, in my mind implicit in that is the right to grow and manufacture it, because it would be nonsensical to legalize possession and use of a substance and not allow it to be created."
Beaufort said he plans to introduce legislation next year that would expand the legal uses of medical marijuana in South Carolina, reports Cassie Cope at The State. Entrepreneurs want guidance from the panel -- which is made up of lawmakers, doctors and state bureaucrats -- about another new law that would legalize industrial hemp in the state.
Nearly three out of four South Carolinians polled in April said the state should allow doctors to authorize medical marijuana for severe, chronic illnesses
The marijuana committee plans to have three more meetings, one each in the Upstate, Pee Dee, and Lowcountry regions of the state, to get input from people without their having to travel to the state capital, Columbia. The committee will make its recommendations to lawmakers in January.
Photo of Janel Ralph and her daughter Harmony: Cassie Cope/The State