Tennessee: Lawmaker Drafting Bill To Re-Legalize Hemp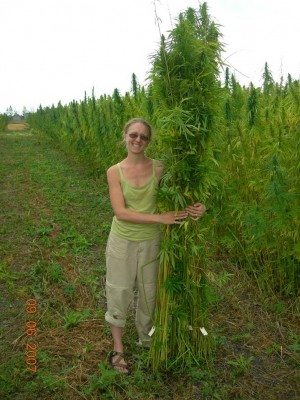 By Steve Elliott
Hemp News
A Tennessee lawmaker wants to bring hemp farming back to the Volunteer State, and he's drafting a bill that would do exactly that. State Sen. Frank Niceley (R-Strawberry Plains) said the key to success is educating his colleagues about the differences between industrial hemp and marijuana -- and the economic benefits to farmers.
Hemp is used in the manufacture of plastics, insulation, and paper. Hemp seeds are used to supplement protein and omega 3-6-9 essential fatty acids, report Heidi Hall and Adam Tamburin at The Tennessean. Hemp clothes, shoes and purses sell briskly. But growing hemp is illegal in the United States, because lawmakers wrote the marijuana laws to include even low-THC varieties of industrial hemp.
"Their biggest fear is that, if they support hemp, people will think they support marijuana," Sen. Niceley said. "That's a cousin of hemp, but cornbread is a cousin of moonshine."
Republican Rep. Jon Lundberg of Bristol remains unconvinced. He also bemoans the federal hoops to jump through, with marijuana considered a Schedule I controlled substance, and he claimed farmers in his district are "not clamoring" for it.
Rep. Lundberg's opinions aside, agricultural researcher Dharma Pitchay at Tennessee State University is excited about the idea. He said Tennessee is "ideal" for industrial hemp production, and said the varieties used to produce rope, fabric and other industrial hemp productrs are "easily distinguished" from marijuana.
Pitchay pointed to the resistance of hemp to pests and weeds, and for its ability to enrich the soil , making it an ideal choice for crop rotation. Pitchay estimated that hemp farmers could expect a return of $250-$300 an acre.
Law enforcement officials in the state are aware of Sen. Niceley's effort to legalize hemp, but have, so far, stopped just short of voicing an official opinion. Many sheriffs are wary of the idea, according to Franklin County Sheriff Tim Fuller, but are reluctant to comment before the bill is finished.
"I can tell you that it will be discussed," said President David Moore of the Tennessee Association of Chiefs of Police. "I've just got to do some more research."
The Drug Enforcment Administration (DEA), meanwhile, isn't amused. "Any person who grows marijuana without a DEA registration ... is committing a felony violation of the Controlled Substances Act," huffed spokeswoman, Dawn Dearden, apparently a real charmer.
At the request of Kentucky police, that state's attorney general issued a September letter saying farmers who grow industrial hemp could face "potential criminal liability and the possible seizure of property by federal or state law enforcement agencies."
But, according to Tom Murphy of Vote Hemp, states that lift their bans on industrial hemp production will be a step ahead of the game if the federal government changes its policy. "Any state that has legislation in place would get a jump on other states," Murphy said.
"Since they have everything in place if that were to change on the federal level ... they could be off the ground and running in the first year," he said.
(Photo: National Cannabis Coalition)