Tennessee: Marijuana Activists Announce 'The Wall' In Support Of Medical Cannabis Act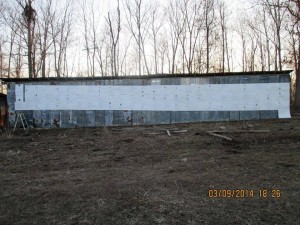 By Steve Elliott
Hemp News
"The Wall," a project in support of the Koozer-Kuhn Medical Cannabis Act, has been announced by MMJ for Tennesseans and Tennessee for Medical Marijuana. The wall features names of Tennesseans who need the medicinal benefits of the cannabis plant, and who support changing the law so that they can have safe access to this medicine, without fear of arrest.
The Wall is an ongoing project; currently, 395 patients are publicly making a stand together in solidarity in support of the bill, "and what should be our right to include medical cannabis therapies in our medical regimes," said activist Dana Arvidson of Nashville, founder of MMJ for Tennesseans.
A recent poll showed that 69 percent of Tennesseans support either cannabis legalization for medicinal use (36 percent) or legalized completely (33 percent), with just 18 percent saying marijuana prohibition should continue, reports Nick Caloway at WKRN-TV.
Many of the patients whose names are on The Wall were heard from, or were represented, in the Koozer-Kuhn Bill presentation last week; these include Piper Koozer, Millie Mattison, Wally Peterson, Toni Woodall Corbin, Seth Green and Kim West Hipps.
"The Wall not only signifies our solidarity as patients in need of a safe and effective alternative to harsh pharmaceuticals, it also signifies the barrier we must overcome -- our current state laws -- that keep us from the medicine we desire and need," Arvidson said.
According to Arvidson, the project is intended to be mobile, so that it can go to all supporting marches and rallies. Currently The Wall has more than 47 patient photos, 76 panels, 1,163 type blocks and a current size of 5.5 feet high and more than 60 feet long.
Photo courtesy of Dana Arvidson