Tennessee: Medical Marijuana Bill's Sponsor 'Very Hopeful'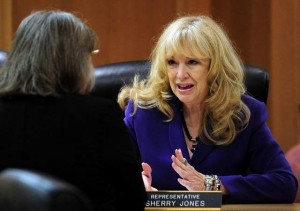 By Steve Elliott
Hemp News
Past medical marijuana bills have gained little traction in the Tennessee Legislature, and both Democratic sponsors of the last bill, proposed in 2012, lost re-election bids after their districts were redrawn by Republicans. But Rep. Sherry Jones, a Democrat from Nashville, said she is "very hopeful" about her bill's chances this year.
The bill, HB 1385, known as the Koozer-Kuhn Medical Cannabis Act, lists conditions from glaucoma to post-traumatic stress disorder as qualifying conditions, and also includes the phrase "any other medical condition or its treatment as certified or prescribed by practitioners and approved by the health department," reports WBIR. Under the bill, which outlines procedures for growing and dispensing marijuana, the program would be named Safe Access.
"This is about compassion," Rep. Jones told The Huffington Post on Wednesday. "It's about giving people better health care, giving them a better quality of life."
The bill is currently in the Tennessee House Government Operations Subcommittee, where it has three votes and needs two more, according to Rep. Jones on Wednesday.
"This year, with all the discussion, I think we might have a chance," she said. "Members are getting lots of emails and letters from constituents who want medical marijuana -- even in hardcore Republican areas, they want to be able to have medical marijuana."
The move can't come soon enough for many Tennessee families. In fact, it comes to late for some.
One couple said they can't stick around to see what Tennessee does about medical marijuana. Penn and Nicole Mattison have sold their landscaping business and, last week, moved their 22-month-old daughter Millie, who has frequent seizures, and her two older brothers from West Nashville to Colorado Springs.
The Mattisons have seen at least 40 doctors, none of whom were able to definitely tell why Milli's brain stays in a constant state of chaos, seizing nearly all the time. They've found a doctor willing to treat Millie with Realm Oil, extracted from a low-THC, high-CBD strain of marijuana developed to combat epileptic seizures.
Penn Mattison said he got the idea from Dr. Sanjay Gupta's CNN special report, Weed. He and his wife had just come from another discouraging doctor appointment where the physician recommended increasing Millie's already large dose of Sabril, a pharmaceutical that carries the risk of vision loss.
"We want to give her every chance that these guys had," Nicole said, gesturing toward her two healthy sons. "The meds knock her out, as they do with most children on them. They can't progress developmentally because they are unconscious the whole time. But do you knock them unconscious with the medication, or do you allow them to possibly die from a seizure?"
No Republicans have yet stepped forward to support the bill in Tennessee's GOP-controlled Legislature. When asked last month about Colorado legalizing recreational marijuana, Tennessee Lt. Gov. Ron Ramsey told reporters to "expect problems" in that state.
But Rep. Jones points out that Tennessee was one of a handful of states that passed a medical marijuana law of sorts in the early 1980s, joining the federal Controlled Substances Therapeutic Research program. The program was unworkable, however, and never served any patients. The law was repealed in 1989.
The new bill would prohibit discrimination against medical marijuana patients by schools, employers, or landlords. Patients would be required to submit to criminal background checks, and some felony drug offenders wouldn't bge allowed to take part. Patients who qualify could possess "a month's supply" of marijuana.
The law would not permit marijuana to be consumed on a school bus or near school grounds; on public transportation or in any public place; in a substance abuse facility; or where the smoke could have adverse effects on the health and safety of children.
Rep. Jones admits that there's a certain lack of understanding among Tennessee Republicans when it comes to medical cannabis. "They think it's all blowing smoke in babys' faces, I guess," she said. "They don't understand there are other ways to use marijuana, like tinctures and lotions."
"Some of the conservatives up here believe that it's not fair to keep these sorts of remedies from people who need them," Rep. Jones said. "That makes me very hopeful for the legislation. If you look at a list of diseases and sicknesses that medical marijuana can positively affect, it is a huge, long list of things."
On Monday, January 27, a symposium "Koozer-Kuhn: Re-establishing a Medical Cannabis Program in Tennessee" will be held at Vanderbilt Owen School of Management from 7-8:30 pm, featuring speeches from legislators and patients, according to Nashville Scene. This is an 80-seat hall and audio will be broadcast in adjacent rooms to handle overflow.
(Photo of Rep. Sherry Jones: Jae S. Lee/The Tennessean)