Texas: Group Hosts Conference Aimed Towards Ending Marijuana Prohibition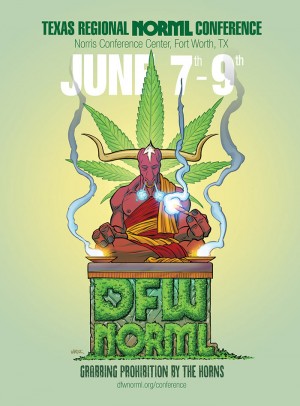 By Steve Elliott
Hemp News
The Dallas-Fort Worth chapter of NORML, the National Organization for the Reform of Marijuana Laws, held its first ever conference in downtown Fort Worth over the weekend. DFW NORML shared the message that criminal penalties should be removed for private possession and use of cannabis by adults.
"We want to minimize abuse and prevent its availability to kids by implementing age controls," said attorney Keith Stroup, who founded NORML back in 1970, reports CBS DFW. Stroup was one of many speakers at the event which also featured local attorneys, activists, law enforcement officials and former California Superior Court Judge Jim Gray.
Speakers discussed the failure of the Drug War, the cost benefits of cannabis legalization, and the need for allowing compassionate care with medical marijuana.
"The idea that marijuana is a Schedule I drug, that it has no medicinal use, is ludicrous," said Judge Gray, citing drugs like Marinol, a synthetic form of THC created by the pharmaceutical industry and classified as a Schedule III drug, available by prescription.
Gray, who served on the Orange County Superior Court from 1989 to 2009 and spent most of his career dealing with drug-related issues, says he's never used an illegal drug. But he's an outspoken critic of the War On Drugs, and was also the Vice Presidential nominee of the Libertarian Party in the 2012 election.
"Eighty-five percent of illegal drug users in the U.S. use only marijuana," Gray said. He said if the federal government will take a look at the situation, "they will not be able to justify the colossal bureaucracy, the expensive bureaucracy to fight the war on drugs."
Marijuana prohibition costs American taxpayers about $41.8 billion per year in government spending and loss of tax revenues, according to the Marijuana Policy Project (MPP).
Cops waste millions of dollars going after casual users, according to Mason Tvert of MPP. "There is no logical reason why law enforcement officials should be spending their time arresting and prosecuting adults simply for possessing a product that is objectively less harmful than alcohol," Tvert said.
The Texas Democratic Party says it's time for marijuana decriminalization to happen in Texas. According to the party's platform, the state party is urging the President, the Attorney General and Congress to take action.
(Graphic: DFW NORML)