Texas: Gubernatorial Candidate Wendy Davis Supports Medical Marijuana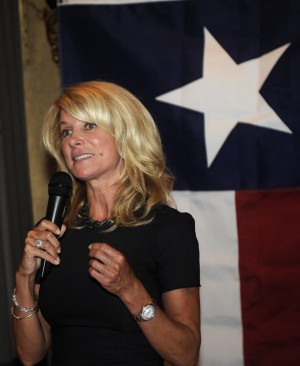 By Steve Elliott
Hemp News
Texas gubernatorial candidate Wendy Davis on Tuesday said she supports medical marijuana, as well as easing the Lone Star State's harsh legal consequences for possession.
Davis said the approach of current Gov. Rick Perry, who said he supports reducing penalties for marijuana in Texas, is "reasonable," according to an interview with Rodger Jones of The Dallas Morning News.
"I do believe that Governor Perry's approach is a reasonable approach, that we as a state need to think about the cost of incarceration and, obviously, the cost to the taxpayers as a consequence of it, and whether we're really solving any problem for the state by virtue of incarcerations for small amounts of marijuana possession," David said, reports Dana Davidsen at CNN.
Under Texas law, possession of even small amounts of cannabis is a class B misdemeanor, punishable by jail time and fines.
Asked about medical marijuana, Davis said she personally supports it, but would gauge the mood of the voters on the issue.
"With regard to medical marijuana, I personally believe that medical marijuana should be allowed for," Davis said. "I don't know where the state is on that, as a population. Certainly as governor, I think it's important to be deferential to whether the state of Texas feels that it's ready for that."
When she was asked if she would have voted for legalization measures like those in Colorado and Washington, Davis hesitated.
"From a philosophical position, do I have any objections to the fact that citizens might want to legalize marijuana? No, I don't," Davis said. "But I think watching to see how this experiment plays out in other states is probably advisable before I tell you for sure."
Davis said as governor she would "consider" a decriminalization bill reducing marijuana possession from a criminal offense to a civil matter.
If Davis wins the March 4 Democratic primary, she will probably face GOP Texas Attorney General Greg Abbott in the general election in November.
Photo of Wendy Davis: The Dallas Morning News