U.S.: American Drug War II Is IMDB's Highest Rated 2013 Documentary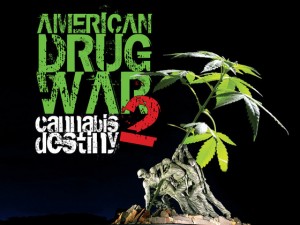 By Steve Elliott
Hemp News
"American Drug War II: Cannabis Destiny" is currently rated highest among all 2013 documentaries on IMDB, the Internet Movie Database, with a score of 9.7 out of 10, according to the film's makers.
The documentary focuses on the failed U.S. Drug War and its effect on a new generation. As IMDB states, "Director Kevin Booth navigates through the cutting edge of cannabis research while becoming a foster parent to a child ordered to take powerful mind altering drugs."
"It has been one of the greatest professional experiences of my life to work with Kevin Booth and his team," said Robert Kane, CFO and senior vice president of business development at X-Change Corp. "It is a privilege to be part of the project from the inception of the business plan, through production and release.
"To have it #1 on this year's IMDB highest rated documentary list is telling of the quality of production and the power of the film's message," Kane said. "This is important because the story speaks to our country's failed drug policy within a context of inhumane effects on children in need of treatment.
"We are thankful that the documentary includes the poignant story of little Cash Hyde," Kane said. "The interest in this film is a game changing moment for both the film and entertainment industry as well as the cannabis industry as the film's success establishes that the market is primed for further investment from media and entertainment giants to support, fund, and invest in related projects."
The film is available on DirecTV Video On Demand. It is also available on iTunes, and as a Video On Demand from Amazon.