U.S.: Banks Still Cautious About Marijuana Business Accounts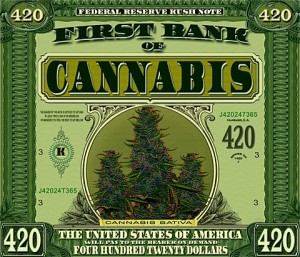 By Steve Elliott
Hemp News
Banking institutions say that while reassurances from Attorney General Eric Holder are nice, they are going to need more than a nod and a wink before providing banking services to marijuana businesses in states where recreational or medical cannabis is legal.
Atty. Gen. Holder made headlines last week when he said the Obama Administration plans to allow banks to make loans to or open accounts for marijuana businesses in states where they are legal, report Kate Davidson and Kevin Cirilli at Politico.com. Marijuana is still considered a Schedule I controlled substance under federal law.
Financial firms face a complex maze of anti-money-laundering rules enforced by federal bank regulators, and violations can be very risky for banks which do business with companies which are breaking federal laws.
One major problem for bankers is that the Justice Department directive isn't binding; there have been past examples of federal prosecutors who disagree with DOJ guidance ignoring its directives. If the next administration is more conservative, all the banks catering to cannabis businesses could once again be subject to federal prosecution. If a U.S. Attorney files criminal charges against a bank, it could lose its charter and be forced to close.
All this means that the risks still outweigh the rewards for banks when it comes to accepting marijuana money.
"From my conversations with bankers, I don't see that there's anything they can do that's going to give a bank the comfort they need until Congress changes the law," said Rob Rowe, senior counsel at the American Bankers Association.
"Because there's nothing hard and fast that gives them a safe harbor from prosecution ... this is a risk they just don't want to take," Rowe said.
That places banks and credit unions in the awkward position of having to turn away business in states where medical or recreational marijuana sales are legal.
"Everybody's been a little bit nervous because of the risks with the federal issue," said Cyndi Koan, executive vice president at the Denver-based Public Service Credit Union. "We don't want to discriminate against a small business ... and obviously, now they're at risk because they don't have access to basic financial services."
Holder had expressed concern for public safety in a speech at the University of Virginia last week.
"Huge amounts of cash -- substantial amounts of cash just kind of lying around with no place for it to be appropriately deposited is something that would worry me, just from a law enforcement perspective," Holder said.
"There needs to be some amendments to the law that says if a state has a regulatory structure in place -- whether for medical marijuana or adult use -- then that state is exempt from the money laundering" laws, said Rep. Ed Perlmutter (D-Colorado).
Perlmutter, along with Denny Heck (D-Washington) has introduced a measure that would prohibit federal authorities from targeting banks and credit unions for providing services to marijuana businesses in states where it is legal.
"We don't need to have a big robbery or some kind of terrible crime to elevate this thing," Perlmutter said. "We can see the potential dangers and should address them."
"If all of this is cleared on a federal basis, then it will just be viewed as any other transaction that goes through their process," said Mac Clouse, a professor of finance at the University of Denver's Daniels College of Business, reports Bruce Kennedy at CBS News. "If you vote to make this product legal, then [the marijuana businesses] shouldn't be at a disadvantage in dealing with general business practices compared to all other businesses."
"You're either going to legalize it and let them be a viable business, or not," Clouse said. "Don't try to put them somewhere in between, where it just makes them have more risks than any other small business."
Don Childears, president of the Colorado Bankers Association -- which has lobbied hard for changes to banking rules to allow marijuana money -- said he's not convinced that an opinion from the Attorney General is enough.
"It's a murky area," Childears said. "It literally will take an act of Congress."
Details are still unclear, but industry sources and cannabis advocates said they expect for the DOJ guidelines to mirror an August memo that instructed U.S. Attorneys not to make pot cases a priority in states where such businesses are legal.
(Graphic: GUS314159)