U.S.: Dr. Sanjay Gupta Changes His Mind; Now Supports Medical Marijuana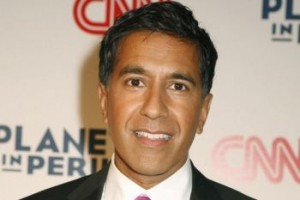 By Steve Elliott
Hemp News
CNN medical correspondent Dr. Sanjay Gupta has reversed his position on medical marijuana. The former staunch opponent of pot now endorses its use in a new essay and an upcoming documentary.
"We have been terribly and systematically misled for nearly 70 years in the United States, and I apologize for my own role in that," Gupta, who penned a 2009 article in Time magazine titled "Why I Would Vote No On Pot," wrote for CNN.
"I didn't look hard enough, until now," Gupta wrote, reports Liz Raftery of TV Guide. "I didn't look far enough ... I was too dismissive of the loud chorus of legitimate patients whose symptoms improved on cannabis."
The research for Gupta's upcoming documentary film, Weed, required that he speak to "medical leaders, experts, growers and patients." He now believes that "it doesn't have a high potential for abuse, and there are very legitimate medical applications.
"In fact, sometimes marijuana is the only thing that works," Dr. Gupta said.
Gupta pointed to research indicating that only 9 to 10 percent of adult marijuana users become dependent, as compared to 20 percent of cocaine users, 25 percent of heroin users and 30 percent of tobacco users.
The doctor did maintain that "developing brains are likely more susceptible to harm from marijuana than adult brains," and that regular marijuana use by teenagers could lead to a "permanent decrease in IQ" or "possible heightened risk of developing psychosis."
"Much in the same way I wouldn't let my own children drink alcohol, I wouldn't permit marijuana until they are adults," he wrote. "If they are adamant about trying marijuana, I will urge them to wait until they're in their mid-20s when their brains are fully developed."
Gupta specifically endorsed the use of cannabis to treat cancer, neuropathic pain and post-traumatic stress disorder (PTSD). "It is irresponsible not to provide the best care we can as a medical community, care that could involve marijuana," he said.