U.S.: Drug Czar Claims Marijuana Is Drug Most Often Linked To Crime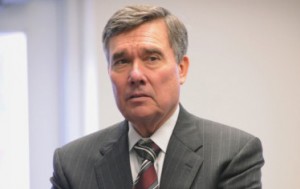 By Steve Elliott
Hemp News
Sure, he's required by law to oppose marijuana legalization. And of course, being put in such an untenable and nonsensical position requires one to lie one's ass off on a regular basis. But still didn't make it sound one whit less ridiculous when Drug Czar Gil Kerlikowske on Thursday claimed that marijuana is the drug most often linked to crime in the United States.
Kerlikowske, director of the White House's Office of National Drug Control Policy (ONDCP), dismissed calls for cannabis legalization as a "bumper-sticker approach" that should be avoided, reports Rob Hotakainen at the McClatchy Washington Bureau. He claimed a study by his office -- which, again, is required by law to oppose pot legalization -- showed a "strong link" between marijuana use and crime.
Eighty percent of the adult males arrested in Sacramento, California last year tested positive for at least one illegal drug, Kerlikowske said. Marijuana was the most commonly detected drug, found in 54 percent of those arrested.
There were reportedly similar results in New York, Denver, Atlanta and Chicago. The study included examinations of 1,736 urine samples and 1,938 interviews with men who were arrested.
Researchers said that marijuana was the most popular drug used by arrested men in all the cities, ranging from 37 percenet in Atlanta to 58 percent in Chicago. Chicago also had the highest overall positive results for drugs, with 86 percent of the arrested men found to have at least one drug in their bloodstreams.
Cocaine ranked as the second most popular drug in all the cities, with the exception of Sacramento, where methamphetamine was number two, detected in 40 percent of those arrested.
Kerlikowske, in a speech at the Urban Institute, a public policy research center in D.C., claimed drugs -- chiefly including marijuana -- are fueling much of the crime in the United States. He made a pitch for more treatment, saying U.S. drug policy should be approached from a public health standpoint as well as a criminal justice issue.
"That means addressing those factors that contribute to drug offenses, factors that all too often include teh disease of addiction," Kerlikowske said. "It means abandoning simplistic bumper-sticker approaches, such as boiling the issue down to a 'War On Drugs' or outright legalization."
Backers of marijuana legalization quickly criticized Kerlikowske's statements and the study itself.
"The drug czar should be ashamed of himself for attempting to deceive the American people in this manner," said Steve Fox, national political director for the Marijuana Policy Project (MPP), a pro-legalization group based in D.C.
"We could release a study tomorrow showing that 98 percent of arrestees in the United States drank water in the 48 hours before they engaged in criminal behavior," Fox said. "Does that mean that water causes crime? Fortunately, the American people are smarter than the drug czar thinks they are."
Fox said the nation's outdated marijuana laws are turning otherwise law-abiding citizens into criminals. "If he wants to reduce crime in the U.S., he should join us in making marijuana legal," Fox said of Kerlikowske.