U.S.: Federal Government May Cut Off Water For Legal Marijuana Crops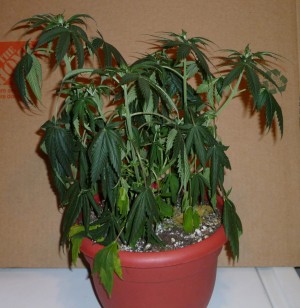 By Steve Elliott
Hemp News
Some marijuana farmers may soon find themselves with some thirsty plants if the federal government decides to block the use of federal water for state-legal cannabis cultivation.
The U.S. Bureau of Reclamation is in charge of managing federal water resources, and "at the request of various water districts in the West," the Bureau "is evaluating how the Controlled Substances Act applies in the context of Reclamation project water being used to facilitate marijuana-related activities," according to spokesman Peter Soeth, report Matt Ferner and Mollie Reilley at The Huffington Post.
Local water districts in Colorado and Washington state contract with federal water projects -- and officials from some of those districts said they think the federal government will turn off the water.
"Certainly every indication we are hearing is that their policy will be that federal water supplies cannot be used to grow marijuana," claimed Brian Werner at Northern Colorado Water Conservancy District, which is in charge of about a third of the water for northeastern Colorado.
Meanwhile, in Washington state, the Roza Irrigation District, which supplies federal water to about 72,000 acres in Yakima and Benton counties, has issued a "precautionary message" to water customers who may be involved in state-legal marijuana grow operations.
"Local irrigation districts operating federal irrigation projects have recently been advised that under Federal Reclamation Law, it is likely project water cannot be delivered and utilized for purposes that are illegal under federal law," Roza district manager Scott Revell wrote in letters to Yakima and Benton county commissioners.
"Presumably growing marijuana would fall into this category," Revell wrote.
"If water is so precious and scarce that it can't be used for state-legal marijuana cultivation, it shouldn't be used for brewing and distilling more harmful intoxicating substances like beer and liquor," countered Mason Tvert, communications director for the Marijuana Policy Project (MPP) and a key backer of Amendment 64, which legalized marijuana in Colorado.
"While we appreciate how the Obama administration has made some administrative concessions to the majority of voters who support legalization by issuing banking guidelines and having the Justice Department largely stand out of the way of state implementation, this water issue highlights the urgent need to actually change federal law," said Tom Angell, chairman of Marijuana Majority.
The impact could be worse in Washington than in Colorado, since the Bureau of Reclamation controls the water supply for about two-thirds of Washington's irrigated land, according to McClatchy. The Seattle Times has already printed an editorial urging the federal government to allow Washington marijuana farmers to use federal water.
The Bureau of Reclamation is likely to announce a decision later this month.
Photo: Cannabis.com