U.S.: Hillary Clinton Supports Medical Marijuana In New Interview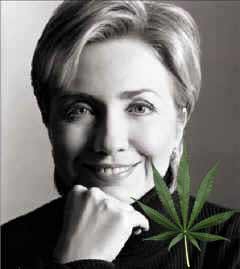 By Steve Elliott
Hemp News
Hillary Clinton supports the use of cannabis for medicinal purposes "under appropriate circumstances" and thinks medical marijuana should be researched, she said in a Tuesday interview with CNN's Christiane Amanpour. Clinton said she's taking a "wait and see" approach to recreational use.
"At the risk of committing radical candor, I have to say I think we need to be very clear about the benefits of marijuana use for medicinal purposes," Clinton said on CNN. "I don't think we've done enough research yet, although I think for people who are in extreme medical conditions and who have anecdotal evidence that it works, there should be availability under appropriate circumstances."
"But I do think we need more research because we don't know how it interacts with our drugs," she said. (Actually, we know quite a bit about how cannabis reacts with other drugs, as it's one of the most studied substances in history.)
"On recreational, states are the laboratories of democracy," Clinton said. "We have at least two states that are experimenting with that right now. I want to wait and see what the evidence is."
Clinton said she'd never personally tried marijuana, nor did she plan to. "Absolutely not," she said. "I didn't do it when I was young; I'm not going to start now."
The Presidential hopeful's remarks about cannabis are a departure from her earlier stance, points out Matt Ferner in >The Huffington Post.
In 2012, Clinton said legalization isn't the answer to the Drug War.
Photo: Dutch Passion Seed Company