U.S.: Marijuana Legalization Supported By Growing Majority of Americans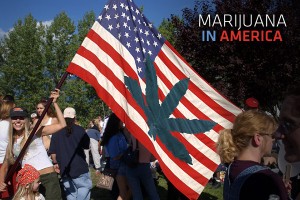 By Steve Elliott
Hemp News
A new survey shows that a growing majority of Americans continue to support marijuana legalization in the United States.
The CivicScience survey, released last week, asked more than 450,000 adults over the last two years: "Would you support or oppose a law in your state that would legalize, tax and regulate marijuana like alcohol?"
Fifty-eight percent of respondents said they support cannabis legalization, with 39 percent saying they "strongly support" and 19 percent saying they "somewhat support" it, reports Matt Ferner at the Huffington Post. Thirty-five percent oppose marijuana legalization, with 29 percent "strongly opposing" and 6 percent "somewhat" opposing the move. Seven percent were too wishy-washy to even express an opinion on the issue.
When breaking out the data from the last three months of responses, from May to August this year, CivicScience saw an increase in support and a decrease in opposition to marijuana legalization. Of those who responded most recently, 61 percent said they strongly or somewhat support cannabis legalization, while just 30 percent said they were opposed.
Sixty percent of men and 55 percent of women support legalization, according to the survey. Support was strongest among those between 25 and 34 years old; the only age group which opposed legalization was people over 65.
The question was asked of 453,653 adults between November 2012 and August 2014 on as many as 400 different websites in the United States. Each respondent was anonymous and answered the question "just for fun," according to CivicScience.
"This huge poll is yet another indication that marijuana legalization is officially a mainstream issue," said Tom Angell of Marijuana Majority. "With ending prohibition polling better with voters than most elected officials do these days, it'll be really interesting to see which 2016 contenders realize that supporting marijuana reform is good politics and which still don't get it."
Photo: CNBC