U.S.: Medical Marijuana States Have Fewer Painkiller Overdoses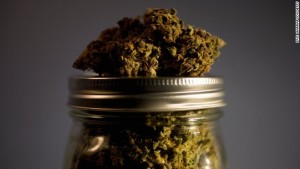 By Steve Elliott
Hemp News
States which have legalized medical marijuana for chronic pain have significantly fewer overdose deaths from prescription painkillers, according to a new study published on Monday in the JAMA Internal Medicine, the journal of the American Medical Association.
Scientists looked at medicinal cannabis laws and death certificate data in all 50 states between 1999 and 2010, reports Saundra Young at CNN. During that period, 13 states had medical marijuana laws in place.
"We found there was about a 25 percent lower rate of prescription painkiller overdose deaths on average after implementation of a medical marijuana law," said lead study author Dr. Marcus Bachhuber.
In 2010 alone, marijuana saved 1,700 lives in states which permit its medicinal use, based on the number of overdose deaths that would have been expected before such laws were passed, according to the study.
"It can be challenging for people to control chronic pain, so I think the more options we have, the better," Bachhuber, who has treated many chronic pain patients as a primary care doctor at Philadelphia Veterans Affairs Medical Center, said. "But I think it's important, of course, to weigh the risks and benefits of medical marijuana."
According to the study, the number of patients in the U.S. with chronic pain who get prescriptions for opioid analgesics -- including painkillers like oxycodone, hydrocodone, morphine and methadone -- has nearly doubled over the past decade. Overdose rates have risen dramatically over the same period.
Deaths from drug overdose have risen steadily over the past two decades, according to the Centers for Disease Control and Prevention, and have become the leading cause of injury death in the United States. In 2011, 55 percent of drug overdose deaths were linked to prescriptions; 75 percent of those involved opioid analgesics.
"Prescription drug abuse and deaths due to overdose have emerged as national public health crises," said Colleen Barry, a senior author on the study and associate professor at Johns Hopkins Bloomberg School of Public Health. "As our awareness of the addiction and overdose risks [...] grows, individuals with chronic pain and their medical providers may be opting to treat pain entirely or in part with medical marijuana."
Dr. Lynn Webster, a past president of the American Academy of Pain Medicine, said he's not surprised by the study's results, or that cannabis might be a safer alternative to opioids.
"AAPM believes that we need to do research on cannabinoids to determine its safety and efficacy," Dr. Webster said. "The AAPM believes that the DEA should reschedule cannabis from Schedule I to Schedule II so that it will make it easier for research to be conducted."
"We found that medical marijuana laws might provide unexpected benefits to public health," Bachhuber said. "As more states pass these laws, it will be important to continue collecting information to see if what we found may be happening in other states as well."
Photo: CNN