U.S.: NFL Under Pressure To Ease Harsh Penalties For Marijuana Use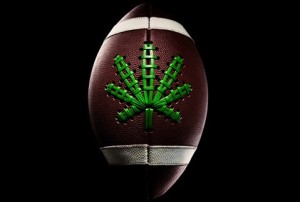 By Steve Elliott
Hemp News
The National Football League has fallen behind the times, when it comes to acceptance of marijuana. The NFL, so far, has stubbornly refused to follow the lead of the public's shifting opinion about recreational cannabis use.
The Marijuana Policy Project highlighted this discrepancy recently when it paid $5,000 for a 48-foot-wide billboard in Denver prior to the Broncos' season opener against the defending Super Bowl champion Baltimore Ravens, reports David Lariviere at Forbes. The billboard urged the league to "stop driving players to drink" with harsh marijuana penalties, noting "a safer choice is now legal (here)" after Colorado voters in November approved legalization measure Amendment 64.
The MPP has also launched a petition on Change.org directed at NFL Commissioner Roger Goodell, calling on the league to change its harsh penalties for marijuana.
"For years, the NFL has been punishing players for using marijuana despite the fact that it is far less harmful than alcohol, a substance widely embraced by the league," said Mason Tvert, director of communications at MPP.
"The league would never punish a player simply for having a couple of beers, so why does it penalize them for using a substance that is less toxic, less addictive, and less likely to contribute to violence?" Tvert asked. "The NFL's harsh marijuana penalties do nothing to promote the health and safety of the players ... We hope Commissioner Goodell will explain why the NFL is willing to promote the use of alcohol among its players and fans, but unwilling to recognize that a safer alternative is now legal here."
The NFL wouldn't comment on the billboard, which will stay up at least through September 22. If officials commented, Tvert's statments and any league policy changes would have to be negotiated with the players' union.
"We're seeing this shift that even the federal government is now recognizing," Tvert said. "So why does the NFL feel it has to be in the business of policing marijuana beyond the legal penalties already in place?"
The most severe NFL penalty for marijuana has meted out in 2006, when star running back Ricky Williams was suspended for 18 months as a repeat cannabis offender. More recently, All-Pro linebacker Von Miller of the Broncos was suspended for the first six games this season; rumor has it he was being punished for pot use.
"The writing's on the wall," Tvert said. "Most of the nation supports the recreational use of marijuana by an adult."
(Photo: In Flex We Trust)