U.S.: Rand Paul Files Measure To Protect Medical Marijuana States From Feds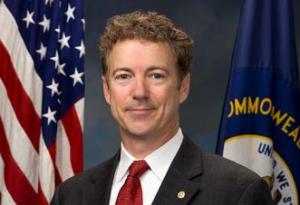 By Steve Elliott
Hemp News
U.S. Senator Rand Paul (R-Kentucky) on Thursday filed an amendment to Senate Bill 2569, the "Bring Jobs Home Act," that would explicitly allow states to pass medical marijuana laws despite the federal Controlled Substances Act. The amendment would also bar prosecutions of patients and doctors involved in medical marijuana when they are in compliance with state laws.
Amendment 3630 allows states to "enact and implement laws that authorize the use, distribution, possession, or cultivation of marijuana for medical use" without federal prosecution," reports Phillip Smith at StoptheDrugWar.org.
The amendment then lists 33 states and the District of Columbia that have medical marijuana laws at variance with the federal Controlled Substances Act, including 10 states that allow only for the use of CBD oil (cannabidiol), which, unlike THC, isn't psychoactive, reports Matt Ferner at the Huffington Post.
"What we're trying to do is look at the law and allow states that have changed their laws and have allowed medical marijuana to do so, for doctors to be able to prescribe and for people to be able to get those prescriptions without being worried about the federal government coming in and arresting them," said Brian Darling, Sen. Paul's communications director.
The federal government continues to classify marijuana as a Schedule I substance with "no currently accepted medical use" and a high risk of abuse.
Sen. Paul, widely believed to have Presidential aspirations, in June introduced another Senate amendment to the Justice Department budget bill which would restrict Drug Enforcement Administration agents and U.S. Attorneys from using allotted funds to go after medical marijuana providers and patients in states where medicinal cannabis is legal. A similar version of that amendment, cosponsored by Reps. Dana Rohrabacher (R-California) and Sam Farr (D-California), after a decade of attempts, finally passed the House in May.
Paul's press agent argued that the new measure could provide additional protections beyond what the Rohrabacher-Farr amendment allows.
"The effort before was to defund prosecutions -- so it would block the federal government from prosecuting until that appropriations bill runs out about a year later," Darling said. But Paul's new amendment, Darling explained, would provide a more permanent and formal framework of protection for states that enact medical marijuana laws.
"It would protect states' rights to make those decisions about medical marijuana that wouldn't expire when the appropriations bill comes back up," Darling said.
Paul's amendment appears unlikely to get a vote, due to partisan gridlock in the Senate. But Darling said the junior Senator from Kentucky is willing to introduce other legislation that may not be identical to the amendment, but would have the same practical effects.