U.S.: Sativex Gets Fast Track Designation From FDA For Cancer Pain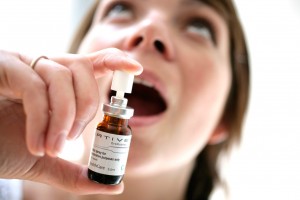 By Steve Elliott
Hemp News
Big Pharma continues its moves to take over the medical marijuana industry. GW Pharmaceuticals, a biopharmaceutical company based in the United Kingdom, on Monday announced the the U.S. Food and Drug Administration (FDA) has granted Fast Track designation to Sativex, an oral spray containing THC and CBD in a 50:50 ratio, for the treatment of pain in patients with advanced cancer.
Sativex is currently in Phase 3 clinical trials for this indication, according to a press release from GW Pharmaceuticals.
The FDA's Fast Track program facilitates the developmental process for drugs intended to treat serious or life-threatening conditions and that have the potential to address "unmet medical needs." A drug program with Fast Track status is given greater access to the FDA for the purpose of speeding up the drug's development, review and potential approval.
"The award of Fast Track designation for Sativex represents important recognition by the FDA of the potential of this medicine to address significant unmet needs in the treatment of cancer pain," said Justin Gover, CEO at GW Pharmaceuticals. "Sativex is the only non-opioid treatment currently in Phase 3 development for patients who do not respond to, or experience negative side effects with opioid medications.
"We are fully committed to delivering the first FDA-approved cannabinoid medicine for these patients who currently have nowhere else to turn," Gover said.
GW is developing Sativex in the U.S. in collaboration with Otsuka Pharmaceutical Co., Ltd.
Sativex is composed primarily of CBD (cannabidiol) and THC (delta 9 tetrahydrocannabinol), administered via an oral spray. Sativex's Phase 3 program trials for the treatment of advanced cancer pain is expected to yield initial data around the end of 2014.
It is estimated that pain is uncontrolled with opioid treatments in about 420,000 people in the U.S.
Sativex is currently approved in 25 countries, mostly in Europe, for spasticity due to multiple sclerosis.