U.S.: Senators Ask White House To Clarify Federal Marijuana Laws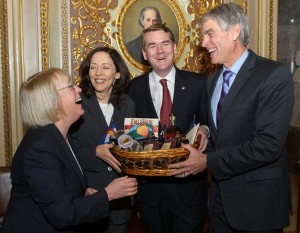 By Steve Elliott
Hemp News
The Senate delegations from Colorado and Washington are seeking clarification from the Obama Administration on the regulations which will impact the legal marijuana trade in those two states.
Democratic Senators Michael Bennet and Mark Udall of Colorado and Maria Cantwell and Patty Murray of Washington on Monday wrote a letter to White House Chief of Staff Denis McDonough and Attorney General Eric Holder, calling for "a clear, consistent and uniform interpretation and application" of federal marijuana laws in relation to their home states, reports Jonathan Topaz at Politico. The letter warns about the current uncertainty surrounding federal cannabis laws.
"We believe the federal government should support Colorado and Washington state's effort to establish a successful regulatory framework in a way that achieves greater certainty for local officials, citizens, and business owners" in the marijuana industry, the senators wrote.
The uncertainty regarding the implementation of federal cannabis laws "may undermine our states' ability to regulate the industry adequately," the senators said.
All four Democrats said they look forward to continuing to work with the Administration to ensure lawful and successful implementation of marijuana legalization in their states.
Colorado and Washington in 2012 became the first two states to legalize recreational marijuana when voters in both states approved ballot measures. Colorado's recreational marijuana stores opened on January 1, while Washington's first pot shops opened on July 8.
Photo of Sens. Patty Murray (D-WA), Maria Cantwell (D-WA), Mark Udall (D-CO) and Mike Bennet (D-CO): The Omak-Okanogan County Chronicle