U.S.: Vote Hemp Holds Briefing With Massie, Polis To Discuss State vs. Federal Laws on Hemp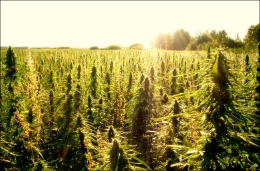 By Steve Elliott
Hemp News
Vote Hemp on Tuesday held an 11 a.m. briefing and press conference on the recent policy change at the U.S. Department of Justice honoring state laws regarding marijuana production. Members of the press heard directly from Rep. Thomas Massie, Rep. Jared Polis, Kentucky Commissioner of Agriculture James Comer and others on the opportunity for industrial hemp farming and whether further legislative clarification is necessary in light of the Justice Department's ruling.
Also discussed was the hemp farming amendment to the House Farm Bill, an update on the Industrial Hemp Farming Act, H.R. 525 and S. 359, the current market for and agricultural benefits of industrial hemp.
Nine states have enacted laws regulating hemp production, and 10 others have urged Congress to remove federal barriers to it. Industrial hemp, a non-drug crop, is already a $500 million-plus industry in the U.S., representing more than 4,000 jobs.
Commissioner Comer is leading the charge to move forward with hemp production in Kentucky, and it is his position that the Justice Department's ruling must honor state law in all states where the Legislature has established a responsible administrative framework to license hemp producers.
Comer said it is his hope that the Kentucky Industrial Hemp Commission begins licensing hemp producers by 2014. In addition, Vermont just released its Hemp Registration Form that allows farmers to apply for hemp permits and the Colorado Department of Agriculture is developing regulations to license hemp farmers next year. North Dakota has issued permits for several years now.
Vote Hemp is a national, single-issue, non-profit organization dedicated to the acceptance of and a free market for low-THC industrial hemp and to changes in current law to allow U.S. farmers to once again grow the agricultural crop. More information about hemp legislation and the crop's many uses may be found at www.VoteHemp.com or www.TheHIA.org.