Washington: Allegations Surface of Rigging In Marijuana License Lottery; Lawsuits Possible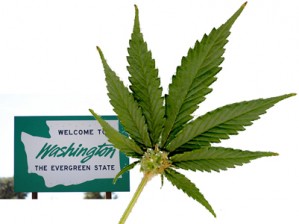 By Steve Elliott
Seattle Weekly
The winners have been announced in Washington state's lottery for marijuana retail licenses, and those whose names weren't drawn are predictably unhappy. Beyond being dissatisfied with the results, there are also rumblings from some quarters about the lottery process being rigged.
Entrepreneur Shy Sadis -- who applied for licenses to open marijuana stores in Bellingham, Tacoma and Snohomish County -- wasn't chosen to receive any licenses, and he told the Seattle Weekly's Nina Shapiro that he's going to talk to his lawyers about suing the Washington State Liquor Control Board over "gaming the system" to favor certain winners.
The state will only allow a limited number of licenses for marijuana stores in each jurisdiction around the state, as it implements cannabis legalization measure I-502. Seattle, for instance, is allocated 21 stores (it currently has close to 200 medical marijuana dispensaries, which is why the LCB is gunning to shut those shops down next year). The state also limited to three the number of licenses each business can hold.
Sadis said he had considered the "straw application" approach, in which people he knows would act as straw applicants who would apply for licenses on his behalf under their own names, increasing his odds of getting picked.
"I could have had my mom, my brother, my uncle, my cousin apply," he said. But the LCB told him doing so would be "defrauding the system. So I did the right thing. Turns out, that screwed me."
Sadis said he only submitted the three applications under his own name, but he said many others used the straw applicant approach. He points to the lottery results for Snohomish County to make his case.
In the #1 spot in Snohomish County is a business whose intended marijuana store will be located at 16530 State Route 9 SE. When one looks closely, the business in the #3 spot also uses the same address -- as do the businesses in fifth, seventh, and 22nd places.
But multiple listings of the same address don't prove straw applicants, according to pot attorney Robert McVay. "I'm guessing an enterprising landlord put out an ad on Craigslist: Hey, you need an address: Pay me $500 or $1,000 and the one who wins [the lottery] gets the lease."
McVay, though, also believes some people probably did use straw applications. The LCB required every business to submit the name of only one owner before the lottery; only the winners are required to declare all "parties of interest" as they undergo a more thorough vetting process. So those whose brother-in-law, for instance, won can now declare themselves co-owner.
LCB spokesman Brian Smith now claims the Board never said you could submit only three applications -- just that you could only be approved for three licenses. This contradicts what Sadis said he was told. It will also come as disheartening news to many people who operated on the assumption they could only submit three applications.
If Sadis -- or one of the other applicants -- follows through with a lawsuit, a judge may have to decide the matter.
Others, including businesses which were thrown out of the lottery after being told their locations violated the 1,000-foot rule (the distance marijuana stores have to be from schools and other places frequented by minors), are considering lawsuits after later ascertaining they were in fact far enough away.
Contentious litigation could push the opening of Washington's long-awaited I-502 marijuana stores all the way into 2015, according to some observers. Washington voters chose to adopt legalization measure I-502 in November 2012, but still have no firm date when they'll have even a single store where they can buy the stuff.
Once the stores open, they'll have marijuana that has been taxed at a rate of 25 percent each at each of the three tiers of production -- growing, processing, and retailing -- yielding an effective tax rate of a whopping 75 percent.
Under Washington state rules, I-502 marijuana is allowed to have been sprayed with more than 200 pesticides.