Washington: DEA Serves Search Warrants On Medical Marijuana Dispensaries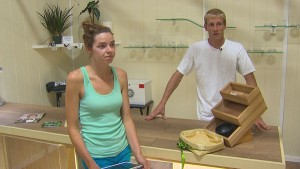 By Steve Elliott
Hemp News
Federal agents on Wednesday raided several medical marijuana dispensaries in Washington, just eight months after voters in the state approved the legalization of cannabis.
The Drug Enforcement Administration's Seattle office confirmed that "several search warrants were executed today involving marijuana storefronts" in the Puget Sound area, reports M. Alex Johnson at NBC News.
The number of raids remained unclear on Thursday afternoon; Seattle marijuana attorney Douglas Hiatt said he personally knew of four raids.
"What we heard from a DEA agent that talked to one of my clients that was at the scene was that there were 18 targets or 18 places that they were going to hit," Hiatt said, reports Drew Mikkelsen at KING 5.
Despite that estimate, the names of only four raided collectives -- Seattle Cross, Tacoma Cross, Key Peninsula Cross, and Bayside Collective -- have been circulated. All four storefronts were among about 20 dispensaries raided by the DEA in November 2011, reports KOMO.
Another Seattle-based delivery service, Green Skunk, reportedly got a threatening letter from the DEA and voluntarily shut down on Wednesday, one source told Hemp News.
DEA spokesperson Jodie Underwood would not confirm that, nor provide many details about the search warrants, saying it is an "ongoing investigation."
One of the raids was the Bayside Collective (formerly Lacey Cross) in Olympia, the state capital, where seven government vehicles showed up Wednesday morning.
Bayside Collective employee Casey Lee thought his shop was getting robbed again when he saw the vehicles speeding into his parking lot. But when he saw the badges, he knew it was another raid.
Agents with guns drawn confiscated business records and about $2,500 worth of cannabis intended for seriously ill patients, according to Lee. Employees were cited and told they needed to appear before a federal grand jury in Seattle in September.
"It's humiliating," Lee said. "They don't get to see the cancer patients."
"Things are going to be hell for you," one of the agents said, according to Lee. "One of the DEA agents said, 'This is your second raid and your third robbery. Why do you keep doing this?"
"I just told him it's because we just enjoy helping people, and he told us that he wasn't expecting that answer," Lee said.
Bayside employee Addy Norton said DEA agents seized personal cellphones of dispensasry workers, along with marijuana, but left computers and about $1,000 in cash, reports KOIN 6.
"I kept saying we don't feel like we've done anything wrong; why are you guys here?" Lee said. "And they said, 'Well you guys are state legal, but you are still not federally legal.' "
The agents took 16 marijuana plants off the shelves, according to Lee, along with edible cannabis products and paperwork.
At Seattle Cross, medical marijuana patient Leif O'Leary found a "CLOSED" sign and a note about the DEA raid on the door.
"You can't tell me there isn't bigger fish to fry, especially now that recreational marijuana is legal," O'Leary said. "It is just to me inconceivable that this is still happening."
"Marijuana is still illegal 24 hours a day, 7 days a week under federal law," Hiatt said. "There is no defense; there is no justification."
According to Hiatt, there's been a lull in federal enforcement until Wednesday's raids; it had been two years since the last major wave of federal raids in Seattle.
"And I think people have misinterpreted that lull," Hiatt sasid. "And I think that the federal government's making up its mind what it's going to do, and to interpret that lull as acceptance was a really bad idea."
"The voters voted. We'll see what happens," said one medical marijuana patient who wanted to remain anonymous. "I think things will be brought to the Supreme Court level at some point, and this is a good test for the Constitution of the United States of America."
(Photo: Bayside Collective employees Addy Norton and Casey Lee, KING 5)