Washington: First Recreational Marijuana Edibles Sold Legally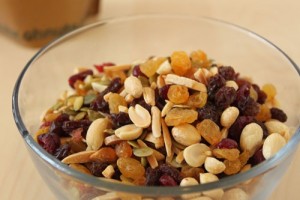 By Steve Elliott
Hemp News
The very first edible recreational marijuana products are now being sold legally in Washington state, a month after cannabis itself went on sale in state-licensed stores.
Due to strict regulations from the Washington State Liquor Control Board, no kitchens had been approved for producing marijuana edibles last month when cannabis sales began on July 8.
Al Olson, the marijuana editor at CNBC.com, bought the first approved edibles in Bellingham, Washington, at a store called Top Shelf Cannabis, reports Katy Steinmetz at Time. Olson bought about $200 on Green Chief "Crazy Carnival Nuts," "420 Party Mix," and "Twisted Trail Mix," as well as on a vaporizer pen and vape pen battery.
The marijuana-infused nut clusters, trail mix and party mix cost around $25 per bag.
Top Shelf opened at 10 p.m. on Wednesday in order to be the first store to sell the products, owner John Evich said, reports Trevor Hughes at USA Today. "It's something interesting and fun," Evich said. "Going down a list of menu items -- I think it's something new for people."
The Liquor Control Board in June had adopted "emergency" rules requiring its specific approval for every product -- including packaging and labeling -- before edibles reached store shelves. Edibles containing more than one serving had to be marked to show serving sizes to help avoid accidental overconsumption by inexperienced marijuana consumers.