Washington: Hemp and Cannabis Initiative Filed
Voters in Washington State Hope to End Hemp and Cannabis Prohibition in 2011
By Michael Bachara, Hemp News Correspondent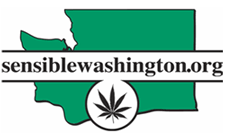 Members of the organization Sensible Washington have filed their highly-anticipated hemp and cannabis initiative.
The initiative, which would remove all state criminal and civil penalties for the possession, use and sale of hemp and cannabis, was filed in the Secretary of State's office in Olympia, Washington on January 26th. The group has changed last year's initiative to reflect concerns about civil regulations of marijuana and their new initiative has language that clearly directs the State Legislature to regulate the responsible adult use of marijuana. They feel the best way to end prohibition is to simply repeal prohibition language.
Proponents argue that cannabis is safer than alcohol, and its prohibition has failed.
Polling this year affirms that they can win in Washington as soon as legalization is put to the popular vote. Washington is one of the better polling states in the country on the topic of legalizing cannabis, with 52% of the public favoring legal marijuana and only 35% opposed statewide, according to the Sensible Washington website.
An attorney for Sensible Washington added, "The group has received support from farmers around the state who are interested in growing hemp." If passed, the proposal could create tens of thousands of quality jobs within the hemp industry for job-seeking Washingtonians.
Sensible Washington's I-1068 failed to gather enough signatures to qualify for last year's ballot, largely due to a lack of funding. They claim they are better funded and better organized this year and are looking forward to giving the public an opportunity to vote on this issue in November. They already have the endorsement of NORML (the National Organization for the Reform of Marijuana Laws).
The group needs 241,153 valid signatures by June 30 to get the measure on the statewide November ballot. "We are hoping to turn in the signatures on April 20th," said Don Skakie, Sensible Washington Coordinator on the program Cannabis Common Sense.
To view the entire text of the 2011 initiative: https://sensiblewashington.org/blog/2011-campaign/proposed-text-of-marij...
If you believe in this cause, now is the time to support it. If you are interested in participating in the effort to legalize hemp and cannabis in Washington State, please contact Sensible Washington or "like" their Facebook Page to receive the latest news and updates regarding the campaign.