Washington: Liquor Control Board Announces 334 Marijuana Stores Will Open In State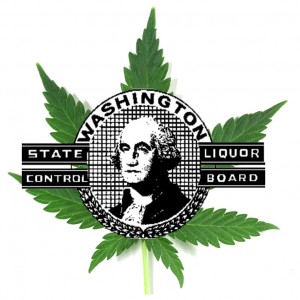 By Steve Elliott
Hemp News
Up to 334 retail marijuana stores will be allowed in Washington state, the Liquor Control Board announced on Wednesday, and each county in the state will have its own cap on stores.
King County will be allowed 61 stores (21 of them in Seattle); Pierce County can have up to 31; Snohomish will be capped at 35 (five of them in Everett); Thurston County will have 11 (two each in Olympia and Lacey); Whatcom County will have 15 (six in Bellingham); Kitsap County will be allowed 10; and Clallam County will have six, report Austin Jenkins and Martha Kang at KPLU. Mason County will be allowed five stores, and Jefferson County will get four, reports The Kitsap Sun.
The entire state can produce, at most, 40 metric tons, or two million square feet, or marijuana per year, according to the WSLCB in its revised proposed rules for recreational cannabis. That amount is supposedly based on state research about the amount of cannabis consumed in Washington state prior to legalization, reports SF Gate.
That research on state marijuana consumption -- which included an average marijuana use as two grams, erroneously copied data from a United Nations report, and introduced a 15 percent across-the-board calculation error -- has been widely criticized.
The rules also include three "production tiers:" less than 2,000 square feet; 2,000 to 10,000 square feet; and 10,000 to 30,000 square feet.
The maximum amount of cannabis allowed on the premises of an outdoor grow is 125 percent of an annual harvest, according to the WSLCB. Indoor grows can have half of an annual harvest on hand, and retailers can have a four-month average supply as inventory.
Unfortunately, no personal grows or home grows are allowed under I-502; only commercial, business grows -- for which one must get a license -- are allowed.
Anything over 40 grams can still be prosecuted as a felony under I-502; it only "legalized" up to an ounce of pot.
The proposed rules would require a 1,000-foot buffer between stores and schools, not as the crow flies, but in "common paths of travel." Ads and labels using cartoon characters or other designs "that may appeal to children" are banned.
The board also decided that no entity could have more than three licenses in each of the producer, processor and retail categories, reports The Kitsap Sun.
The rules were updated not only in response to citizen feedback, but also "to meet the eight federal government enforcement priorities," the WSLCB said.
Washington state's first marijuana retail outlets will probably open in June 2014, according to board chairperson Sharon Foster. Retailers will be allowed to stay open as late as midnight. No Internet sales will be allowed.
Local moratoriums on pot stores may result in "access issues" that could end up in court, board member Chriss Marr said.
Hearings are planned for October 9, and the Board will adopt the rules on October 13. Licensed applications for the three types of marijuana licenses -- producer, processor and retailer -- must be filed by December 18.
You can't get a license if you owe any back-taxes to the state.
Download Washington State Liquor Control Board Marijuana Rules)