Washington: Liquor Control Board Bans 'Legal' Marijuana From Bars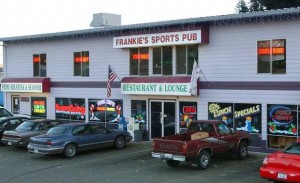 By Steve Elliott
Hemp News
Marijuana's supposed to be legal now in Washington state, but apparently it's not as legal as alcohol. The Washington State Liquor Control Board on Wednesday adopted a rule change making it illegal for any business with a liquor license to allow on-premises cannabis consumption of any kind.
The rule change goes into effect 30 days from unanimously board vote, according Liquor Control Board spokesman Mikhail Carpenter, reports Jeremy Pawloski at The Olympian. That would mean that marijuana smokers who light up in Frankie's Sports Pub in Olympia will be breaking the law after January 17.
Frankie's, for a year now, has allowed bar patrons to smoke weed in an upstairs private room. Owner Frank Schnarr says that members can legally smoke there after Washington state voters approved I-502, making it legal for adults 21 and older to possess and use up to an ounce of marijuana.
Washington bars -- that is, except for Frankie's -- ban smoking of any kind, but Schnarr won a legal battle to allow his patrons to smoke tobacco in an upstairs room, if they pay $10 annual dues to become "Friends of Frankie's."
Business is booming at the bar since he started allowing marijuana smoking, Schnarr said. There are now about 13,500 "Friends of Frankie's," he said.
Schnarr said he planned to ignore the Liquor Control Board rule change. Carpenter said the LCB will enforce the rule.
According to the new rule, bars that catch patrons smoking weed are supposed to throw them out. A bar which repeatedly allows patrons to toke up could face fines and could even lose its liquor license, according to Carpenter.
The rule change wasn't made to specifically target Frankie's, claimed Justin Nordhorn ,chief of enforcement for the LCB. He claimed the board has heard "numerous reports" from officers in King County that other bars are also allowing patrons to get high.
Board members claimed they were concerned about bar patrons smoking marijuana and then driving home. It seems rather odd that they waited until now to express concerns about impaired driving, since folks drink alcohol at the bar then drive home every night.
The Liquor Control Board claimed the rule change was necessary to bring its rules into compliance with I-502, which bans consumption of cannabis "in public view." "Public drinking" is also against the law in Washington. Wonder when they're going to bust bar owners for allowing that?
(Photo: Steve Bloom/The Olympian)