Washington: Medical Marijuana Patients Tell Liquor Control Board: Hands Off Our Medicine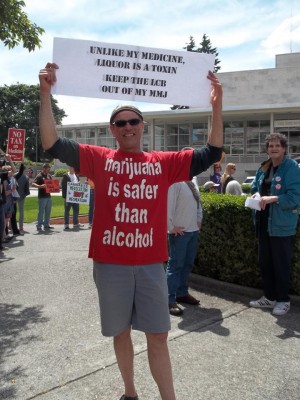 By Steve Elliott
Hemp News
From all over the Puget Sound area and throughout the state the medicinal cannabis patients came, and together, at the Washington state Capitol on Wednesday, they spoke with one voice: "Keep The Liquor Control Board Out Of My Medical Marijuana."
Dozens of cannabis advocates gathered in Olympia to protest efforts by the Legislature to include the medical marijuana industry under the state's new recreational cannabis law, Initiative 502, approved by voters last November.
Lawmakers are considering bills that would put the Washington State Liquor Control Board (WSLCB) in charge of a study to see how "integration" of the two spheres -- medical and recreational cannabis -- would work. Investors in the state's newly legal recreational marijuana industry fear that medical cannabis could draw customers away from the highly regulated, stiffly taxed pot that will theoretically be available in state stores early next year.
"We have said that the medical marijuana market is a challenge to the success of the recreational market, the reason being that a certain percentage of people are buying it through the medical marijuana market for recreational purposes," claimed Brian E. Smith, speaking for the Liquor Control Board, reports Melissa Santos of the Tacoma News Tribune. "They would be competing with the recreational market, which is heavily taxed and highly regulated."
"They have said that we're an external threat to them," said Steve Sarich of the Cannabis Action Coalition, which organized Wednesday's rally, reports C.R. Douglas of Q13 Fox. "What do you do with an external threat if you are allowed to control them? You get rid of them."
The activists are fighting to keep medical marijuana outside of the regulations governing recreational marijuana, as was promised during last fall's campaign by the backers of I-502.
Many of the protesters objected strongly to the Liquor Control Board having input on their medical decisions.
"I'm a patient; I want to work with doctors," said Stephanie Viskovich of the Cannabis Action Coalition. "I don't want the Liquor Control Board telling me, you know, what's best for my physical well being. They're just simply not qualified to do that."
"We are not going to turn medical issues over to the Liquor Control Board any more than we're going to turn heart surgery over to Fish and Game," Sarich said, reports Graham Johnson at KIRO-TV.
"Cannabis used as medicine needs only be controlled by the patients, doctors, et cetera," said Joanna McKee, a medical marijuana patient and provider from West Seattle. "This is a medical situation -- it's not a liquor control situation."
"Effective medication should not only be available to the monetarily wealthy," said Renae Ely, a medical marijuana patient and activist from Port Orchard who was concerned about the impact of taxing medicinal cannabis like recreational marijuana. "It should be available to everyone."
Meanwhile, Liquor Control board spokesman Brian Smith says many medical marijuana users aren't sick at all (and this, mind you, is the group that the Legislature proposes putting in charge of medical marijuana).
"We know a fair amount of people are using the medical marijuana system for recreational
purposes," Smith claimed. "It's fairly easy to be able to get an authorization."
But state Sen. Jeanne Kohl-Welles (D-Seattle) said that it makes sense for the Legislature to wait until the Liquor Control Board finishes writing its rules for the states' recreational marijuana system before changing the state's working medical marijuana system.
"I think that what we have to approach very carefully is whether or not it would be best for patients -- qualifying and legitimate patients -- to be part of one system with recreational marijuana, or be part of a totally separate system," Kohl-Welles said.
(Photo of activist Doc O'Zee: Steve Elliott/Hemp News)