Washington: Retail Marijuana Stores Expected To Open On July 8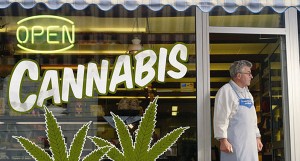 By Steve Elliott
Hemp News
The first group of about 20 retail marijuana stores will open in Washington state on July 8, if all goes according to plan. Of course, we were also told that the first stores would already be open by now, so a wait-and-see attitude might be best.
The Washington State Liquor Control Board plans to issue the first retail marijuana licenses on Monday, July 7, and the new licensees will use the first 24 hours to get the cannabis into their store tracing program, reports Jake Ellison at the Seattle P.I. Once that's done, the stores can open on July 8, according to Brian Smith, communications director for the LCB.
Pricing at the stores, opening as part of the implementation of limited legalization measure I-502, isn't expected to be very consumer-friendly. "I would assume $20 to $25 a gram until the producers reduce their prices," said Michael Perkins, who said he expects to open a store in Seattle on July 8.
Perkins said that even at those prices, "I expect to run out of product."
These estimated prices come as a surprise to no one who's been paying attention, but it should be noted that the Washington Office of Financial Management had placed a "price estimate" of $12 per gram to the retail customer. I-502 imposes a 25 percent tax on each step of the process, so when cultivators sell to producers, the producers pay a 25 percent rate; when producers sell to retailers, the retailers pay 25 percent -- and when you buy it, you'll pay a 25 percent tax, too.
"The retail pricing for top-shelf product could be in the $20-$25 range," agreed a spokesman for Spokane Green Leaf, another of the first 20 licensed retail marijuana stores in the state. "Lowest prices expected in the $12-$15 per gram range."
"It's all just speculation at this point, but I expect them to be higher than black market, certainly," said Austin Lott, owner of the Fresh Greens store in Winthrop, which also expects to be among the first licensees.
"We've heard of some growers pushing for $5,000 or more per pound to the retailer, but we've also [heard] from a number of growers who are selling at less than $3,000 a pound," Ellison reports in the P.I.
Because I-502 only specifically mentions "usable marijuana" and "infused products" (the law wasn't written very well at all), the Liquor Control Board has decided that hash, hash oil and other concentrates cannot be sold at state-licensed retail marijuana stores. But to qualify as "infused," concentrates could contain just a little inert oil or juice to qualify. The LCB has yet to set minimum thresholds for what constitutes "infused" products.
"We've kept in mind geography and population, and retail licenses will be spread around the state," claimed the LCB's Smith, despite the fact that Washington Attorney General Bob Ferguson says that municipalities can ban the pot stores -- and many already have.
Once the licenses are awarded, the LCB will publish a list of the new licensees.
Anyone who can prove they are 21 years of age or older will be allowed to buy up to an ounce of marijuana, 16 ounces of cannabis-infused edibles, and 72 ounces of infused liquids.
Giving away marijuana under I-502 is considered the same as selling it, and only licensed sellers are allowed to do that. You could face a felony charge for "giving" marijuana to someone -- including passing them a joint, if a cop wants to be an ass about it.
You'll only be able to legally smoke marijuana in your own home and out of view of the general public; anywhere else, you could get a civil fine, like a jaywalking ticket.
No home cultivation is allowed under I-502; if you want marijuana, you have to buy it from a state-licensed store. Growing even one small pot plant is considered "manufacturing" and will get you felony charges.
Yeah, I know... I tried to tell you guys about these shortcomings of I-502 back in 2012.
Photo: Edmonton Beacon