Washington: Seattle Hempfest 2013 Sends Message To The President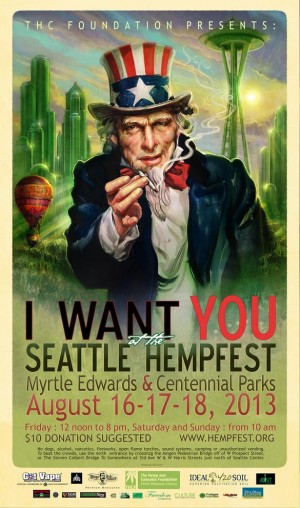 Marijuana Sales Prohibition To Be 'Heavily Enforced'
Is it a "protestival" or a celebration? Seattle Hempfest will be a little of both this year as attendees mark the historic passage of Washington and Colorado's marijuana legalization initiatives in 2012. As many as 250,000 cannabis enthusiasts are expected to attend the 22nd year of the nation's largest annual free-speech event in Myrtle Edwards Park, on the Puget Sound waterfront near the Space Needle, in downtown Seattle August 16-18.
Using the "human microphone" call and response pattern of communication that was employed in Occupy Wall Street demonstrations, organizers plan to send a message to President Obama that it is time to end the plant's designation as a Schedule I substance under the Uniform Controlled Substances Act.
"More deaths are caused each year by tobacco use than by all deaths from HIV, illegal drug use, alcohol use, motor vehicle injuries, suicides, and murders combined," said Vivian McPeak, Hempfest's executive director. "Alcohol use is the third leading lifestyle-related cause of death for the nation, yet these two dangerous drugs have been exempted from the federal schedule entirely.
"Pot prohibition is a lesson in hypocrisy," adds McPeak. "There has never been a single reported death from an overdose or toxic reaction to marijuana, and we intend to send a message to the President straight from the mouths of 100,000 Americans that it is time to entirely remove marijuana from the federal schedule, just like tobacco and alcohol."
Politicians that have admitted to recreational marijuana use following prohibition include mayors, governors, members of the House of Representatives, Senators, and Presidents Bill Clinton, G.W. Bush, and Barack Obama. Prohibitionist policies have lowered street prices, emboldened the black market, and have been a catastrophic failure as a deterrent to use.
Marijuana prohibition costs U.S. taxpayers nearly $42 billion per year in criminal justice costs and in lost tax revenues. The taxpayer return on investment is America's designation as the largest jailer of citizens per capita in the world while marijuana use skyrockets nationwide.
A complete list of Seattle Hempfest's extensive cadre of speakers, including former Alaska Senator Mike Gravel; Eugene Ahn, assistant professor, University of Miami's Department of Veterans Affairs Medical Center; and Steve DeAngelo, executive director of Oakland's Harborside Health Center, can be found at hempfest.org.
Marijuana sales are prohibited at the urban protest action, and McPeak said that rule will be heavily enforced.
Event hours, speaker and entertainment line-ups, and attendee information can be found at www.hempfest.org.