Washington: Study Says State Marijuana Users Smoked 6 Million Ounces In 2013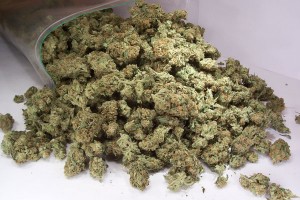 By Steve Elliott
Hemp News
Washington state marijuana users smoked more than 6 million ounces of pot this year, according to an official government study.
The RAND Corp. study, aimed at figuring out how much cannabis is smoked by heavy users on a typical day, was released on Wednesday. A team of researchers calculated that the Evergreen State's roughly 750,000 marijuana users will have consumed between 135 and 225 metric tons of weed in 2013, reports Gene Johnson at the Associated Press.
The team came up with the median figure of 175 metric tons, which is 6 million ounces, enough for about 340 million half-gram joints, or 170 million the way I roll 'em.
According to the RAND study, "Before the Grand Opening," half the weed in the state is consumed in just its three most populous counties: King County (which includes Seattle) uses about 30 percent of Washington's marijuana, while Pierce to the north and Snohomish to the south smoke about 11 percent each.
The amount of pot smoked in Washington is important to government officials because of the implementation of marijuana legalization measure I-502, approved by state voters last year. If the state-licensed marijuana stores run out of weed, customers will turn back to the black market and the state won't get the tax revenue for which politicians are salivating. If "too much" marijuana is produced (or, in a more likely scenario, that which is produced is overtaxed so badly that folks won't buy it), surplus production could be illegally diverted.
For that reason, the study's researchers conducted an online survey to ask marijuana consumers how much they use. Researchers were especially interested in consumers who toke up more than 21 days per month, because that segment of the smoking public uses about 80 percent of all weed smoked, according to earlier research.
Nearly two thirds, 64 percent of the 2,783 respondents from Washington reported using pot at least 21 days per month, averaging 1.3 to 1.9 grams per day on days they smoked, according to the report.
"If you can get a good idea about what those heavy users use, you can get a pretty good idea about the size of the market," said RAND study author Beau Kilmer.
The users were shown photos of a half-gram of cannabis next to a credit card and a coin, for scale. The idea was to improve the accuracy of their responses about how much weed they smoke.
Washington state officials plan to allow licensed producers to grow 80 metric tons of marijuana in 2014, half for use as dried flowers and half for producing cannabis-infused products. Since their own estimate is that 175 metric tons are used in the state each year, their modest goal is to capture less than half the market on their first year.
(Photo: DA Cold Hard Truth)