Washington: Suquamish Tribe Approaches State About Marijuana Sales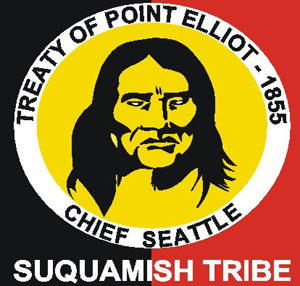 By Steve Elliott
Hemp News
The Suquamish Tribe of Washington state is exploring the idea of selling marijuana on their reservation at Port Madison.
The native American tribe proposed a deal with the Washington State Liquor Control Board earlier this year that would allow cannabis sales by the tribe and tribally-approved businesses, reports Tad Sooter at the Kitsap Sun.
The liquor board hasn't taken any formal action on the tribe's proposal, according to spokesman Brian Smith. Because the reservation is under federal rather than state jurisdiction, and marijuana remains illegal under federal law, the WSLCB will defer to the federal government on cannabis policies affecting the tribe, Smith said.
"I would not expect us to issue any licenses without some defining statement from the Department of Justice," Smith said on Wednesday.
Suquamish Chairman Leonard Forsman said the tribe hopes to discuss with the Liquor Control Board how they can become involved in legal marijuana sales. The tribe has a "responsibility to explore business opportunities that may help raise funds for its people and government," Forsman said in a statement released to the media.
"[T]he production and sale of marijuana on our tribal lands is simply something we are exploring and thought it vital to approach the Liquor Control Board as part of that process," Forsman said. The chairman noted that cannabis remains prohibited on the reservation under tribal law.
Tribal representatives declined to elaborate on the plans beyond Forsman's statement.
"It's an interesting area because it's another opportunity for tribes to assert their sovereignty through their own regulatory jurisdiction," said Seattle attorney Carson Cooper, who specializes in Native American affairs.
Under the proposal, marijuana business operated by the tribe would not be subject to the licensing procedure established under Initiative 502, the tightly controlled legalization measure approved by Washington voters in 2012, but under which no legal marijuana stores have yet opened. Cannabis stores operated by tribe members, or other tribally approved operators, would have to meet state licensing requirements, but would be exempt from some regulations, including applications deadlines, which have already passed.
Tribal marijuana businesses also would not be subject to the 25 percent excise tax enacted by the state, under the tribe's plan. That casts an interesting sidelight on the current debate in Washington over whether medical marijuana patient collectives -- which operate as dispensaries -- should be shut down. One argument advanced by state officials for shutting down the medicinal cannabis collectives is that since they aren't subject to the 25 percent excise tax, they would provide too much competition for the state-licensed recreational marijuana stores.
Some other tribes in Washington have taken a decidedly anti-marijuana position.
The Yakama National of central Washington have come out strongly against legal cannabis, banning possession and prohibiting sales on their tribal lands and attempting to prevent the opening of stores for which business licenses have already been applied. The Yakama cite federal anti-marijuana laws (under which cannabis is still a Schedule I controlled substance) and have called upon federal authorities to prevent the implementation of I-502 on tribal lands.
Port Gamble S'Klallam Chairman Jeromy Sullivan said cannabis is still illegal on the S'Klallam reservation, but the tribal council will probably take another look at marijuana laws in the future. Sullivan said the tribe is watching how other state tribes approach cannabis before addressing the issue locally.