Washington: Vivian McPeak - Cannabis Freedom Fighter
"No political or human rights movement in America has made it this far without eventually winning, it's just a matter of time." Vivian McPeak
By Michael Bachara, Hemp News Staff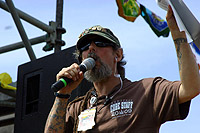 It has been said that Vivian Mcpeak, Seattle Hempfest Event Director, is quite possibly the most inspirational speaker in the hemp movement, and this writer agrees with that consensus.
Vivian has the ability to energize a crowd like no other and has become a pillar of strength for those who demand their voices be heard regarding cannabis reform. There have been many fantastic and inspiring speakers throughout the years at the Seattle Hempfest from the iconic Jack Herer to the National Organization for the Reform of Marijuana Laws (NORML) founder Keith Stroup, but once you have heard Vivian speak, something about you is different; you feel you have become a part of history.
He was named High Times Magazine's 2001 Freedom Fighter of the Year and has worked for many years with NORML to bring attention to the cannabis issue. The Hemp and Cannabis Foundation is honored to support him as a voice for reform, and consider him a part of the THCF family.
Every year, Hempfest is held at Myrtle Edwards Park, Elliott Bay Park and the Olympic Sculpture Park in Seattle, Washington. In August 2009, over three hundred thousand individuals attended the Seattle Hempfest event to protest hemp and cannabis prohibition in the United States. "If the purpose of these laws is to stop people from smoking marijuana in our communities, they could not be a bigger failure," Vivian states about prohibition. "We've got to do something else — something more cost-effective."
The above video is an rousing excerpt from Vivian speaking on the Seattle Hempfest 2009 Mainstage. The video below is the 2009 Seattle Hempfest Promo.
Seattle Hempfest: http://hempfest.org

Reference: http://seattletimes.nwsource.com/html/localnews/2009665612_hempfest15m.h...
Source: http://www.youtube.com/watch?v=HR1l4fN7Yag
Photo Source: http://hempfest.org/gallery2/main.php?g2_itemId=17593&g2_page=3