Wisconsin: Law Allowing Marijuana-Derived CBD Oil For Seizures Remains Unusable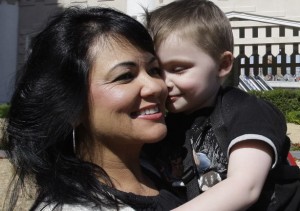 By Steve Elliott
Hemp News
Two months after Wisconsin Governor Scott Walker signed into a law a measure allowing the use of cannabidiol (CBD) oil, a marijuana derivative used to quell seizures without getting patients high, nobody has yet been able to access the medicine.
The bad situation is due at least in part because of obstacles foolishly written into the legislation at the last minute, reports Dana Ferguson at the Journal Sentinel.
"It is frustrating," said Amylynne Santiago Volker of the roadblocks between her nine-year-old son, Nicholas, and the experimental treatment. "It's there in paper, but we can't access it."
Unfortunately, Wisconsin's "CBD-only" law appears as useless as most of the rest passed recently by state legislatures who want to be seen as "doing something" in the face of overwhelming popular support for medicinal cannabis, without having the courage to pass an actual medical marijuana law which could help actual patients.
Gov. Walker on Friday told reporters he "wasn't sure" if his administration could do anything to free up access to CBD, but if more could be done through state legislation, Walker claimed he was "committed to working with lawmakers" to do so.
"Right now I don't know exactly how that could be done," Walker said. Of course, the answer is staring Gov. Walker and the Wisconsin Legislature squarely in the face: It's merely a matter of summoning up the cojones and the political will to pass a medical marijuana law like those that are working in 22 other states nationwide.
State Rep. Robb Kahl (D-Monona), lead sponsor of the legislation, said the measure hadn't included a provision requiring Food and Drug Administration (FDA) approval for doctors seeking to authorize patients for CBD. That bill had bipartisan support in the Assembly but stalled in the Senate, Kahl said.
"It wasn't going to be passed without the amendment," Kahl said of the added FDA requirement, which basically made the bill useless to patients in the real world.
That amendment has stopped physicians from investigating CBD and authorizing patients to use it, much to the dismay of Wisconsin families dealing with extreme seizures.
Both Children's Hospital of Wisconsin, in Wauwatosa, and American Family Children's Hospital, in Madison, said they won't even apply for the federal FDA drug trial permits needed to use CBD under the pathetically weak Wisconsin law.
"It's really simple," snapped Toni Morrissey, spokeswoman for University of Wisconsin Health. "It's not FDA approved, so we're not prescribing it. That would be the only way it could happen."
Children's Hospital of Wisconsin released a statement calling CBD an "exciting prospect" but noted that the American Academy of Neurology hasn't yet recommended it.
"We very much understand the interest in cannabidiol and are deeply sympathetic toward families who would like to see if this is a viable option for their children," the morally empty statement says. "That is why we take the necessary steps to ensure this and any other new treatments are safe before we administer them."
Volker said she and her son, whom she calls Nic for short, may not be able to wait much longer for the availability of CBD, which she helped push to legalize. She said she's seriously considering moving to a state that actually allows CBD and has doctors willing to authorize the medication.
"We're really at a standstill," Volker said. "There's really no movement right now as far as I know. In the midst of trying to figure out exactly what the next steps are, I think we're looking at the possibility of having to make a move."
Unlike in the 22 states and the District of Columbia that have real medical marijuana laws, Wisconsin doctors can't authorize CBD, nor can dispensaries provide it, without FDA approval, due to the poorly written law in Wisconsin. The bill requires physicians who want to treat patients with CBD to apply for and carry out an FDA investigational drug trial.
In a richly ironic statement that would be funny if it weren't so sad, Kit Beyer, spokeswoman for Assembly Speaker Robin Vos (R-Rochester), claimed there is little more that lawmakers can do (of course, they could always pass a law that isn't pitifully weak).
"The legislation was intended to give families more treatment options, but lawmakers can't force doctors to prescribe it," Beyer said in a sad defense of the indefensible. Of course, doctors in states with actual medical marijuana laws rather than a pitiful sham like Wisconsin's CBD-only law have absolutely no problem authorizing thousands of patients for medical marijuana of all types.
Transporting CBD across state lines is a federal crime -- CBD is irrationally considered a Schedule I drug under the federal Controlled Substances Act -- so doctors and families who try to obtain it from out of state run the risk of criminal charges.
Volker admits she's desperate enough to have considered obtaining CBD from a doctor in another state and driving it back to Wisconsin, in violation of federal law. Nic suffers up to 100 seizures a day and has endured 169 trips to the operating room.
It could mean so many things to have CBD," Volker said. "It would mean a new hope for more of a normal life for Nic. He's already missed out on so much of his childhood."
Photo of Amylynne Santiago Volker and her son Nic, 9: Gary Porter/Journal Sentinel