Wisconsin: Medical Marijuana Bill Unlikely To Pass, Despite Public Support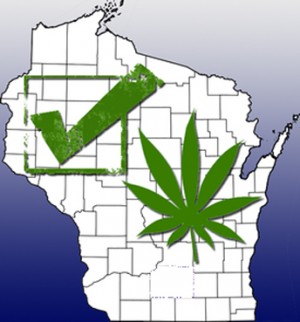 By Steve Elliott
Hemp News
Democrats in the Wisconsin Legislature are going to try to pass a medical marijuana law again this year; previous attempts have failed.
Thousands of Wisconsin residents are using medical marijuana illegally, according to Gary Storck, a Madison-based medicinal cannabis activist. And a majority of state residents support making it legal for medical purposes -- but the Legislature is unlikely to pass a medical marijuana law, according to observers.
"So many people have been forced into making that choice," said Storck, who has for decades used cannabis to treat this glaucoma, reports Allison Geyer at the La Cross Tribune. "People are going to do it anyway, if they're willing to break the law."
Sen. John Erpenbach of Middleton and Rep. Chris Taylor of Madison will introduce a bill to legalize cannabis for medicinal purposes when the Legislature reconvenes for its fall session. Erpenbach has already sponsored such a bill twice before; Taylor is taking the place of Rep. Mark Pocan, who was elected to Congress last year.
"It will be a tough time," Erpenbach said. "It was tough last time when Democrats were in the majority."
According to Erpenbach, this year's bill remains virtually unchanged from the 2012 version, which died in committee. It would provide a "medical necessity" defense for cannabis-related prosecutions, and would allow Wisconsin residents who get an ID card from the state Department of Health Services to "acquire, possess, cultivate, transport or utilize" marijuana.
Card-holding patients would be limited to 12 plants and three ounces of marijuana. They would be able to buy cannabis at dispensaries, known as compassion centers, which would be licensed and regulated by the DHS.
"If something has the potential to work for (patients), has demonstrated that it can make life a little more bearable and more comfortable, why should we deny you that?" asked Rep. Chris Danou of Trempealeau, who has cosponsored the two previous MMJ bills and plans to do so again this year.
Former police officer Danou said he's confident law enforcement can adapt to the changes if medical marijuana becomes legal. "It's already illegal to drive under the influence," he said.
Rep. Steve Doyle, an Onaluska Democrat, said he would support the bill, assuming it limits use to those with legitimate medical conditions.
"From what I've seen with the experiences in other states, it doesn't look like there's a lot of outright abuse," he said.
But the bill isn't likely to pass, according to state Sen. Jennifer Shilling of La Crosse. Like other Democrats, she said she would likely vote for the bill if it made it through committee, but noted that both health committees, in the Senate and the Assembly, are chaired by Republicans. Republican Sen. Leah Vukmir of Waukesha is a vocal opponent to medical marijuana, and GOP Rep. Erik Severson of Star Prairie said he would not give the bill a hearing.
But Erpenbach and Taylor said it's only a matter of time, and that they'll continue to introduce a medical marijuana legalization bill each session until it passes.
"This is something the Wisconsin majority has supported for a while now," Erpenbach said. "The Legislature is behind the curve."
(Graphic: Northern Wisconsin NORML)