World Remembers Activist Peter McWilliams, 13 Years After His Passing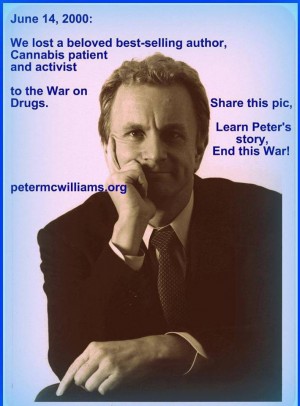 By Steve Elliott
Hemp News
On June 14, 2000, the world lost one of its bravest activists for medical marijuana and personal freedom. Peter McWilliams, author of Ain't Nobody's Business If You Do and many other books, passed away after a battle with cancer and HIV when the government took away the cannabis he used to control his nausea. More than a decade after his death, it's important to remember just who and what this man was.
McWilliams [1949-2000] lived a rich life. He was many things: author, publisher, photographer, poet and activist, among others. But one of the most important things Peter was, was an inspiration. His courage and charisma were and continue to be a source of strength to many who are struggling with illness and with the injustice of our marijuana laws.
He had a remarkable career starting in the 1970s, writing more than 40 books, including works on depression, losing a loved one, computers, and poetry (yes, he was a real Renaissance Man). Several of McWilliams' books made The New York Times Top 10 nonfiction bestseller list.
Peter's 1993 libertarian manifesto Ain't Nobody's Business If You Do remains one of the greatest affirmations of the right of citizens to act and live in any peaceful, honest lifestyle, including their inalienable right to drugs and especially cannabis. It emphasizes personal freedom and the responsibility that goes along with it.
In 1995, McWilliams was diagnosed with depression, after having suffered from it all his life. Along with coauthor Harold H. Bloomfield, M.D., who treated Peter for his depression, he'd authored How To Heal Depression the previous year.
In 1996 Peter was diagnosed with both AIDS and cancer and became very ill; he found that medical marijuana helped control the extreme nausea and helped him keep his medications down.
McWilliams became a cannabis legalization activist after contracting AIDS. In 1997, in what would be his final project, Peter, with the help of Todd McCormick, began a medical marijuana garden in Bel Air, California. The two men were researching a book about medicinal cannabis.
Both Todd and Peter agreed that, according to their understanding of the then-new Proposition 215 -- approved by California voters in 1996 -- their right to do so was legally protected.
Federal Drug Enforcement Administration (DEA) agents disagreed. They raided the Bel Air garden, arresting both McWilliams and McCormick. Both men were later sentenced to mandatory minimum five-year prison terms in 1999.
By this time, Peter had a very personal stake in legal medical marijuana, as he was using cannabis to treat the nausea and debilitating effects of the anti-AIDS pharmaceuticals he was taking to deal with HIV symptoms and cancer. McWilliams had intended to write about the effectiveness of cannabis in helping him deal with his illnesses.
At his federal trial, Peter was forbidden to even mention that his use of marijuana was for medical purposes, because federal law doesn't recognize any such use for cannabis.
The federal judge who sentenced McWilliams forbade him to use marijuana, and just five days after he was prohibited from using medicinal cannabis, Peter was found dead -- choked on his own vomit from the nausea he suffered -- on June 14, 2000.
Without marijuana, he had been unable to control the severe nausea associated with his medical conditions.
The official cause of his death was a heart attack, but many believe that Peter died of a broken heart, betrayed by an America that had turned its back on compassion and medical science. McWilliams sincerely believed that medicinal cannabis had been legalized by a vote of the people of California.
Paul Stanford, president of The Hemp and Cannabis Foundation (THCF) and the Campaign for the Restoration and Regulation of Hemp (CRRH), which owns Hemp News, said he was most inspired by McWilliams' "philosophy that if people are not hurting another, they deserve freedom."
"His life was an inspiration in terms of always encouraging people to true and improve themselves," Stanford said. "In his death, it's to fight the prohibition, to ending torture. They talk about victims of the War On Drugs -- well, Peter McWilliams was one of the most tragic victims of the War On Drugs."
McWilliams' legacy continues with a new generation of activists whom he has inspired. One of the most prominent of those is Julia, curator of the online Peter McWilliams Museum. She has established a Peter McWilliams Tribute at PeterMcWilliams.org and on Facebook, and also maintains McWilliams.com, which was once Peter's own personal site.
Julia is helping to keep Peter's words, memory and legacy alive through online activism, videos and personal appearances at cannabis community events.
"I discovered Peter McWilliams in 2009 after reading his book You Can't Afford The Luxury Of A Negative Thought," Julia told Hemp News. "I was very inspired and wanted to do something about it.
"I started Peter's Page on MySpace and then the Facebook page," Julia told us. "Then I created a video which shows Peter's life and works."
"His words always tried to help people," Julia said. "He wrote books that helped disabled people learn computers. He cowrote How To Survive The Loss Of A Love, which helps people to this day heal their broken hearts and lives."
"Peter did so much with his short life," Julia told us. "It's only fair we remember him."
Editor's note: To help defray Julia's travel expenses in attending the Hempseed Festival in Olympia, Washington, on August 3, you can buy t-shirts and books from PeterMcWilliams.org by clicking here.
(Graphic: Peter McWilliams Tribute)