Oregon: Vote Yes on Measure 91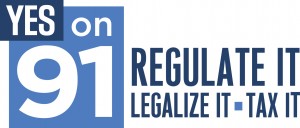 By D. Paul Stanford, CRRH
Oregon's Ballot Measure 91 qualified for the vote on July 22nd, almost exactly two weeks after Washington state began regulated sales of marijuana just across the mighty Columbia River from Oregon. New Approach Oregon's petition campaign turned in enough valid signatures to qualify the Control, Regulation, and Taxation of Marijuana and Industrial Hemp Act for the November 4, 2014 ballot. On the same day in November, both the state of Alaska and the federal capitol, Washington, DC, will also vote on their own initiative petitions to end marijuana prohibition.
According to the Oregon Secretary of State's website, 145,030 unverified signatures were submitted for verification on Measure 91. Of those, 88,584 signatures, or 64.41 percent of the 135,722 accepted for verification, were valid. To qualify for the ballot, 87,213 were needed, so, according to the Oregon Secretary of State Elections Division, Measure 91 qualified with 1,371 more signatures than the minimum required..
The proposed Oregon ballot measure would allow for licensed and regulated cultivation and sales of marijuana. Sales would be taxed to generate money for schools, state and local police and drug treatment, prevention and mental health programs.
It is important for medical marijuana patients to note that Measure 91, when passed, will not change nor effect the current medical marijuana law in Oregon. Measure 91 taxes will not be charged for people with an Oregon medical marijuana permit.
We at Hemp News and our parent organization, Campaign for the Restoration and Regulation of Hemp, a nonprofit political committee, encourage Oregonians to vote yes for Measure 91 this November. This measure is much better than the legislation passed in Washington state, I-502, in almost every way, and is also better than the Colorado's Amendment 64 in most ways. Oregon's proposed Ballot Measure 91, if passed, will put Oregon ahead of the overly restrictive regimes now instituted in both Colorado and Washington. The new Colorado and Washington state laws to regulate marijuana were approved via the initiative process by voters in November 2012, the same year our Oregon Measure 80 lost with 47 percent of the vote. Several polls confirm that Oregon's voters are now ready to take the step to end marijuana prohibition.
Oregon's Ballot Measure 91 will tax marijuana a single time at $35 an ounce for flowers or buds, $10 an ounce for shake or bud trimmings, or $5 per live growing plant sold. These taxes are dramatically lower than the ones now in both Colorado and Washington state on the newly legal retail sale of marijuana to adults.
Measure 91 would direct the Oregon Liquor Control Commission to license marijuana growers, processors and retailers and charge each business a license fee of $1,250 per year. These fees are also dramatically lower than the ones imposed in both Washington and Oregon, and are a quarter of the fee for a single location under Oregon's new medical marijuana dispensary law that went into effect in March 2014. Measure 91 only requires one license fee per business, and that businesses may grow, process (including extracts) and sell cannabis and cannabis products for this same single fee.
Though Measure 91 only enacts a single state tax on a cannabis product, it is likely that city and county governments may attempt to impose a tax too. However, under Measure 91, cities and counties may opt to ban marijuana sales in their jurisdiction, but the city and county councils would have to refer it to a vote in the general election held every two years. Then, if the city or county elected to ban marijuana sales, they would not receive the taxes raised on the legal sale of marijuana elsewhere in Oregon. Unlike the recently imposed city and county bans on medical marijuana dispensaries in many Oregon jurisdictions, Measure 91 would require a vote of the people in the November biennial election.
Measure 91 would tax cannabis extracts and cannabis-infused foods according to the amount of cannabis flowers ($35 per ounce) or shake and trim ($10 an ounce) used to produce them. For instance, if an extract or food took two ounces of trimming to produce it, then it would be taxed $20. If a concentrate of cannabis took two ounces of flowers to produce, the tax would be $70.
We urge Oregon voters to vote approve Measure 91. Please help the campaign and get out the vote. Measure 91 will put Oregon at the forefront to lead the nation in creating a new cannabis industry. It will allow new businesses to thrive and create jobs. Measure 91 is designed to encourage small business start-ups and economic development throughout Oregon. Measure 91 is better designed than the new laws in Colorado and Washington state to displace the black market for marijuana with reasonable taxes and fees. Measure 91 will lower misuse and abuse, increase science and transparency, open the door toward a rational policy on hemp and cannabis, and rightfully regulate marijuana for adults. Oregon, please vote yes on 91.