Georgia: Dead Man Leads Police To $12 Million Marijuana Stash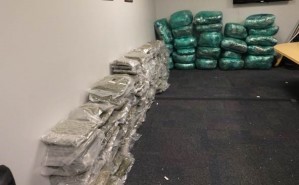 By Derrick Stanley
Hemp News
Police were led to a $12 million marijuana stash in Gwinnett County, Georgia Monday by a dead man.
Gwinnett County police spokeswoman Cpl. Michele Pihera said officers responded to a 911 call that reported "a man slumped over near a white van" at a storage yard near Norcross. The man was dead, apparently from natural causes. He was later identified as 31-year-old Connecticut resident Johnny Taylor.
Officers "looking around the scene for signs of foul play" soon "noticed a very faint smell of suspected marijuana coming from inside the van." K9s called to the scene didn't detect anything, but a box inside the van was eventually opened — and a large amount of marijuana was discovered inside, sealed in bags.
Similar boxes were found inside the tractor-trailer.
"After a search warrant was obtained," Pihera said in a news release, "several hundred pounds of marijuana were seized. The street value is approximately $12 million." An exact number was not released, but Pihera said more than 500 pounds of pot were recovered.
Police said there were no sign of trauma to Taylor's body and believe he died of natural causes. Security footage shows him pulling up in the van around 9:30 p.m. Sunday, just minutes after another man pulled up in the tractor trailor and left in a gold Toyota Camry.
That man has been questioned by police but has not been charged, Pihera said.